Robson To Miss Wimbledon
17 April 2014, 17:57 | Updated: 17 April 2014, 18:59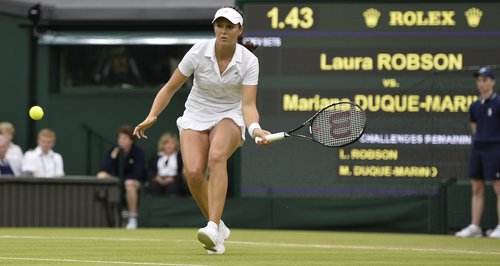 British tennis number one Laura Robson's going to miss Wimbledon and the French Open this summer.
The 20-year-old has got to have surgery on her wrist after suffering an injury in pre-season training.
She has not played a match since losing heavily in the first round of the Australian Open in January.

Writing on her Facebook page, Robson said: "I wanted to inform my lovely supporters that I have decided to have minor wrist surgery at the Mayo clinic with one of the best wrist doctors in the world, Dr Richard Berger.

"Dr Berger is very confident that I will be able to return to the tennis court pain free before you even have time to miss me. Although sadly, I will have to miss the French Open and Wimbledon."

Wrist injuries are among the most problematic in tennis and the news is a major blow to Robson, who has had more than her fair share of physical issues in the early stages of her career.

Dr Berger is the surgeon who has twice operated on Juan Martin del Potro.

The former US Open champion missed most of 2010 after having an operation on his right wrist and underwent surgery on his left wrist last month.

Initially, it did not seem the problem in Robson's left wrist was too serious.

She pulled out of her scheduled first tournament of the year in Auckland and then retired mid-way through her opening match in Hobart.

But speaking before the Australian Open, Robson was upbeat, saying: ''It was a bit of tendinitis, and there was a bit of a ligament thing in there, but it was kind of two different things.

''We thought after we saw the first doctor that it would be fine for Auckland. But then I still felt it a bit, so I saw another doctor when I got here.

''I just wasn't quite ready to play a match (in Hobart), and didn't want to make anything worse. It seems to be cleared up now. My wrist feels pretty good."

But Robson was clearly nowhere near fully fit in a 6-3 6-0 beating by Belgium's Kirsten Flipkens and headed home for further checks on her wrist.

The Londoner was given the all clear to practise again in February but the wrist continued to bother her and potential comeback tournaments came and went.

It is to be hoped surgery will put an end to the problem but missing Wimbledon will have been a particularly difficult decision.

Last year Robson reached the fourth round and climbed to a high of 27th in the world rankings.

She is currently ranked 64th and could well find herself outside the top 100 when she returns to action.

Robson is clearly hoping that will be in time for the US Open, where she made her major breakthrough in 2012 by reaching the fourth round, but it will certainly take time for her to return to her best form.

It has been an unfortunate couple of years for Britain's two best women, with Heather Watson still trying to recover the ground she lost as she battled glandular fever.

Watson has had an encouraging start to the season but is still ranked down at 121st, 82 places lower than the high of 39 she achieved last spring.