Rolex Smash And Grab
27 August 2014, 19:11 | Updated: 27 August 2014, 19:14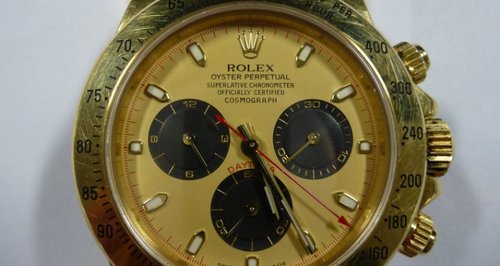 Police are looking for seven people after a smash and grab raid at a Rolex store in Knightsbridge.
A gang on mopeds smashed their way in with hammers and an axe at around 10.30am on Wednesday 27 August 2014.

Four mopeds with seven people armed with axes and sledgehammers attempted to smash the front window of the store. When this failed they forced the door of the store with a motorbike.

The masked gang then stole a quantity of watches before leaving the scene and making their way onto South Carriage Drive.

Mounted officers blocked the road attempting to prevent them from escaping. The mopeds then turned around escaped in the direction of central London.

The Met Police said no-one was injured during the robbery and no-one had been arrested.
Anyone with information was asked to call the Flying Squad at Putney on 0208 785 8655. People who wished to remain anonymous could call Crimestoppers on 0800 555 111.