Sex Attack Teacher Jailed
27 May 2014, 16:26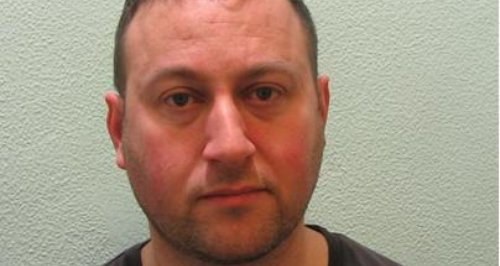 A former south London primary school teacher's been jailed for four years after pleading guilty to 22 sex offences against children under 13.
The judge described Paul Cannon (right), 40, of Coulsdon, as "every parent's nightmare".
He admitted 22 sex offences relating to children aged between six to 13 years old from 1999 to 2009.
The offences included sexual assault, outraging public decency, exposure, taking and making indecent images of children, engaging with sexual activity with a child and indecency with a child.
He was sentenced at Croydon Crown Court to four years in prison for sexual assault and to between two months to three years for the other offences - all of which are to run concurrently.

Cannon targeted both boys and girls, the youngest of whom was six years old. Most of his victims were aged between eight to 11 years old.

He later told police that he preferred children who were prepubescent.

Cannon targeted his young victims during the daytime in parks and open spaces in the Sutton, Carshalton and Merton areas of south London.

He picked weekends and holidays when children were away from their homes and watchful adults, and he often wore sunglasses, regardless of the weather, and rode a mountain bike, his victims recalled.

Judge Glen Brasse told Cannon, who sat with his head down and pressed in to his hand throughout much of the hearing, that he had committed a "very serious group" of offences which had caused emotional and psychological harm to the children.

The judge said: "It is stating the obvious that your behaviour was every parent's nightmare - that nightmare is that their child goes out in a public place and he or she is assaulted.

"This kind of offence naturally arouses feelings of anger in the public."

The judge told Cannon: "The harm to the children was all too easy to imagine - they must have felt terror and fear.

"You targeted a very young age group of children - as young as six years old. This was very serious predatory behaviour."

He noted that Cannon had shown a breach of trust by asking an 11-year-old girl and a friend of hers if he could take pictures of their private parts at an after- school club where he was a helper.

There had been some pre-planning to this and from then on Cannon targeted children in places that were outside his home and work, possibly as a way to keep what he was doing secret and to try to avoid detection, the judge said.

Cannon would approach children and ask to take indecent photographs of them, sometimes offering them money. He would expose himself and play with himself and in some cases he went on to sexually assault the child.

Prosecutor Anthony Heaton-Armstrong told the court that a "very major police investigation indeed" was needed to catch Cannon, involving DNA matches, examination of his computer and identity parades, along with his own admissions.

More than 4,700 images were found on his computer.

An eight-year-old girl with learning difficulties became a different child after Cannon approached her from behind one day as she was walking her dog.

In a victim impact statement read out to the court by Mr Heaton-Armstrong, her mother said she changed from being an "independent kid" to one who was "very clingy".

She was an "outdoors child" who changed her route to school because it passed the scene and she refused to go to bed on her own.

Her mother noted that "my tomboy had become a mummy's girl".

A six-year-old girl whom Cannon asked to take her clothes off while he took pictures of her in her underwear was his youngest victim.

At the after-school club where he asked a girl and her friend to go into a room, he took photographs of their naked bottoms and "he asked them not to tell anyone", Mr Heaton-Armstrong said.

In another statement a woman who was attacked in 2001, when she was nine years old, said she feels "worried, frightened and unhappy - I have good days and bad days".

She added: "I will never forgive him for what he put me through and what he still puts me through now."

The incident left her wary of boys as a child and needing to go to an all-girls secondary school, while as an adult it has "put a strain on me and my partner and I do not want to be alone", she said.

After his arrest in 2013, Cannon accepted his catalogue of crimes and fully helped police piece together the evidence.

Emma Nash, defending, said: "Mr Cannon wishes to apologise to each and every victim."

He has said "the children were not responsible, I have 100% responsibilty", she told the court.

The Metropolitan Police said he was arrested and charged after publicity from the Jimmy Savile scandal prompted one of his terrified victims to finally come forward and report an offence which took place 13 years ago.

After the hearing, Detective Sergeant Nick Troon, of the Metropolitan Police sexual offences, exploitation and child abuse command, said: "I would like to thank all of the victims in this case and commend them for their bravery in assisting us in bringing Cannon to justice for his crimes.

"A prolific offender, he no doubt thought that, given the passage of time, he was unlikely to ever be held accountable for his actions.

"The victim who came forward most recently, leading to Cannon's identification, was prompted to do so on the back of the Jimmy Savile coverage. This is a clear indication of the effect of recent high profile cases in encouraging victims to have the confidence to report historical allegations, in the knowledge they will be listened to.

" This is reflected in the fact that over the last 12 months we have seen an increase of 1,436 allegations of sexual abuse reported to the Metropolitan Police Service.

"I hope today's result will encourage other victims to come forward and report allegations, regardless of the passage of time and nature of the offence.

"I believe there may well be further victims of Cannon out there and would encourage anyone who recognises him in connection with offences to report the matter to police."