Skullcracker Given Life Sentence
29 May 2014, 18:18 | Updated: 30 May 2014, 18:24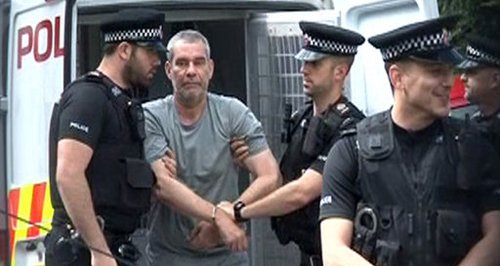 The armed robber nicknamed The Skullcracker has been given another life sentence for robbing a building society while on the run from an open prison in Kent.
It was the second time Michael Wheatley has been jailed for holding up the same branch.

Wheatley, 55, was being hunted for absconding from Standford Hill prison in Kent when he pulled a handgun on staff at the Chelsea Building Society in Sunbury-on-Thames, Surrey, in a case which sparked a political row over the day release of dangerous criminals.

Wheatley, a prolific armed robber for more than 35 years, was already serving 13 life sentences for a string of raids when he disappeared after being let out of the Category D Isle of Sheppey unit for the day on 3 May 2014.

Guildford Crown Court heard on Thursday 29 May 2014 that one of the robberies for which Wheatley was jailed at the Old Bailey in October 2002 was on the same branch in the well-to-do Surrey commuter belt town he targeted on 7 May.

Its manager had warned staff the night before this year's robbery to be on their guard in case he struck there, the court heard.

Ordering Wheatley to serve at least ten years before being eligible for parole, Judge Christopher Chritchlow told him his was a "special case" because of his prolific record of violent armed robberies and reoffending after being released from prison.

The judge told him: "You went to the same branch which you robbed in about 2001.

"You therefore deliberately targeted this branch and planned this raid.

"You knew exactly what you were doing, having committed such crimes so many times."

He added: "It is clear the public must be protected from you for a long time."

Appearing via video-link from the maximum security HMP Belmarsh in south east London, Wheatley showed no emotion and sat with his arms folded as he was sentenced.

The court heard that he has 23 previous convictions for robbery, two for attempted robbery and 18 for related firearms offences.

He has spent 46 years of his life in institutions, starting at the age of six, and has been in prison on and off for most of his adult life.

He was given his nickname after pistol-whipping innocent bystanders during previous robberies, including a 73-year-old woman.

Prosecutor Dale Sullivan told the court Wheatley previously struck in 2001 when the Sunbury branch was in a smaller neighbouring unit.

This time round he entered the building at around 9.30am when there were few customers around, posing as a man who had spent 20 years in Ireland and wanted to open a new account.

After twice coming in and chatting to deputy manager Christopher Gurdev, he was about to leave for the second time at 10.15am when he suddenly said "one more thing".

Mr Sullivan went on: "At which point the defendant pulled out a handgun from within his jacket and pointed it at Mr Gurdev's head."

The court was played CCTV from the robbery, which showed Wheatley forcing Mr Gurdev at gunpoint to unlock a door, take him into the back of the branch and hand him cash from a safe while shouting: "Give me the money". He also pointed the weapon at a female cashier.

Mr Sullivan added: "The importance of the location of the robbery was that the branch was robbed by the defendant some 13 years ago.

"The manager had briefed her staff the night before about Wheatley, telling them to be aware of him because of the media coverage and his failure to return to Standford Hill."

Wheatley was arrested later the same day in the Tower Hamlets area of east London and all but £850 of the £18,350 he stole was recovered, Mr Sullivan said, but the gun, real or imitation, was never found.

Because of this, he was sentenced as if it was an imitation weapon. Wheatley had earlier admitted charges of robbery, possession of a firearm and being unlawfully at large.

Lionel Blackman, defending, said Wheatley went on the run after being refused parole and having therapy sessions that were helping him deal with childhood physical abuse scrapped because of prison funding cuts.

He was first refused parole after seven-and-a-half years in prison, then again last October.

Mr Blackman told the court Wheatley had been having therapy in prison in between parole attempts and had not applied while getting help.

After his subsequent second failed parole attempt he was downgraded and moved to the Category D open prison, but Mr Blackman said he had not reacted well to the more laid-back regime.

Mr Blackman told the court: "This is a case where a man has spent 46 of his 55 years in one institution or another."

He continued: "He was very much left to his own devices in the open prison.

"Not seeing on the horizon another opportunity to determine his release and disappointed not to achieve a release at seven and a half years or in October, he made the decision not to return to prison at all.

"The plan was to start a new life in Ireland. Regrettably he committed a robbery to fund that new life."

Speaking outside court, Detective Chief Inspector Chris Raymer, of Surrey Police, said: "Wheatley is a dangerous individual and I welcome the lengthy sentence imposed at today's hearing which reflects the seriousness of his crimes.

"This was clearly an extremely distressing incident for the members of staff in the building society who were threatened by Wheatley and I hope the sentence helps them to move forward.

"Officers were at the scene within minutes of the emergency call and we worked closely with Metropolitan and Kent Police colleagues, resulting in Wheatley being arrested within hours of the offence."

:: Kevin Perry, 53, of West India Dock Road, east London, also appeared via video link from HMP Highpoint charged with assisting an offender, perverting the course of justice and handling stolen goods. Speaking only to confirm his name and wearing a burgundy jumper, unshaven and balding, Perry did not enter any pleas and was remanded in custody until July 18.