Street Attacker Jailed
10 December 2014, 19:13 | Updated: 10 December 2014, 19:20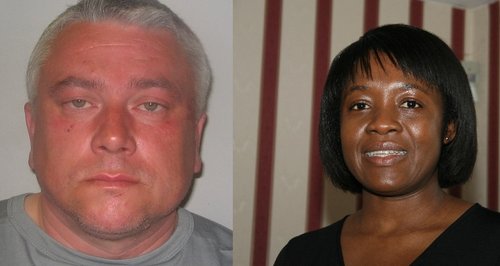 A man who stabbed a woman in a street in Tottenham as she left the GP surgery where she worked has been jailed for at least 20 years.
Dariusz Miakienko, 47, (left) attacked Naudel Turner (right) after she ended what he thought was a relationship he had had with her.
Naudel Turner, 42, left work at a local GP surgery as normal at lunchtime on Wednesday 19 March 2014 and walked along Bruce Grove. Dariusz Miakienko followed her until he caught up alongside her and witnesses say she was heard to shout 'leave me alone'.

As Naudel pulled out her mobile phone, Miakienko pushed her against a fence and attacked her with a kitchen knife. He forced her to the ground and stabbed her in the neck and body twenty times.

A passenger in a car being driven along the road, jumped our and pleaded with Miakienko to stop but he continued the attack. Witnesses have reported that once he stopped attacking Naudel he was seen to stand near her body and roll a cigarette.

An off duty PC stepped in supported by a number of members of the public who detained Miakienko and called for both police and the ambulance service. London's Air Ambulance attended and treated Naudel at the scene, she died whilst being taken to hospital by ambulance.

Miakienko was arrested at the scene and the kitchen knife he had used recovered.

An Old Bailey jury heard how Miakienko met Naudel when he went to the GP surgery where she worked as a patient. They started what he called a 'relationship', they had known each other for about two years.

Miakienko then started to stalk Naudel, bombarding her with text messages and calls. She even told friends she believed he had starting following her.

Detective Chief Inspector Noel McHugh, the senior investigating officer from the Homicide and Major Crime Command, said: "Naudel was murdered simply because Miakienko could not cope with her rejection of him. He stalked her over many months.

"Miakienko is a cold and callous man who has robbed her sons of a mother and a community of a dedicated and hard working woman.

"I would like to thank those brave members of the public who stepped in, alongside one of our off duty police officers, and detained Miakienko. It must have been terrifying to see such a violent attack at lunchtime on a busy street."