Taxi Go-Slow
24 September 2014, 18:16 | Updated: 24 September 2014, 18:23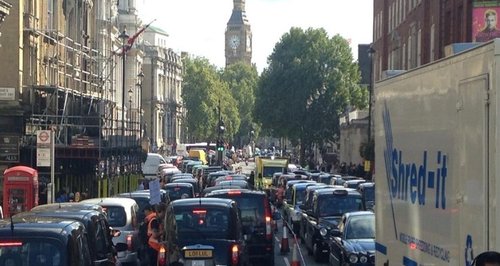 Transport for London say they're disappointed taxi drivers chose to cause disruption on Wednesday 24 September by holding a go-slow protest.
Hundreds of cabbies took part, angry over things like unlicensed drivers and electric rickshaws.
The go-slow led to gridlock along Whitehall and on Trafalgar Square and Parliament Square.
Before the action, the Licensed Taxi Drivers Association said: "Taxi Drivers (Black Cabs) will be blockading central London in a mass drive in aimed at highlighting the inefficiencies and incompetence of their licensing regulator, Transport for London (TfL) under the Mayor, Boris Johnson.

"TFL's inability to deal with the growing threat to Londoners safety of illegal minicab touting, unlicensed operators and electric Rickshaws are the main grievances of the cabbies although the proposed Cycle Crossrail (Barmy Boris's Barking Mad Bike Scheme) is now firmly in their sights."
In a statement, Transport for London said: "It is regrettable that a number of taxi drivers, whose job it is to help keep this city moving, plan to cause unnecessary disruption to other road users.
"The taxi trade has several forums with TfL and the Mayor. We urge them to communicate directly with us on the specific issues they wish to discuss."