Teacher Faces Jail
5 December 2014, 19:10 | Updated: 5 December 2014, 19:13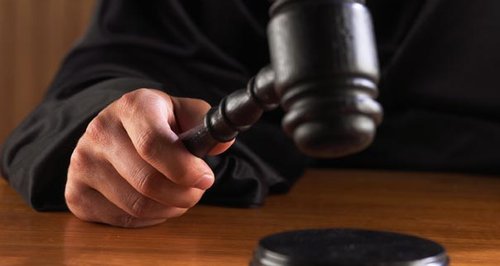 A married religious studies teacher at a South East London school has been found guilty of having a sexual relationship with a teenage pupil.
Stuart Kerner, 44, had sex with the girl at school and at his home during their illicit affair when she was 16.

Jurors heard he took her virginity on a yoga mat in a store cupboard at Bexleyheath Academy in south east London the same week his wife miscarried their second child.

Inner London Crown Court heard that what started out as a schoolgirl crush turned into a full-blown affair.

Father-of-one Kerner appeared stunned in the dock as the verdict was read out.

His wife, who supported him at court throughout the trial, reacted by saying "it's stupid".

She then walked out of the room and screamed in anguish.

The jury of six men and six women took six hours and 11 minutes to reach their verdicts.

Kerner was found guilty on two counts of sexual activity with a child by a person in a position of trust. They were both majority verdicts of 11-1 and 10-2.

He was found not guilty on four counts of the same offence.

He was also acquitted of two counts of sexual activity with a child, which relate to when she was 15.

Kerner, of Russett Close, Aylesford in Kent, was warned by Judge Joanna Greenberg QC that all sentencing options remained open.

Jurors had heard that Kerner took advantage of the "besotted" schoolgirl, who cannot be named for legal reasons.

He told the teenager their relationship was "written in the stars".

In a video interview with police played to jurors, the schoolgirl said: "I felt special. But, I dunno, it wasn't really. And admitting that does kind of hurt."

Recalling the moment he kissed her for the first time, she said: "I couldn't actually believe what had just happened. I was sort of in a little dream world, it was unbelievable."

The schoolgirl said she could say "hand on my heart" Kerner would never have made a move on her without her encouragement, and that she fell "in love" with him.

She told the detective: "I knew it was wrong, but it was something that felt right as well... There was always a little voice at the back of my head saying 'He's just using you'.''

Prosecutor Warwick Tatford told the court Kerner took advantage of a vulnerable schoolgirl.

He said: "This was a gross breach of trust - a teacher giving in to temptation.

"The Crown aren't saying she's innocent in all this. She was anxious to have a relationship with him ... (But) he was a senior teacher who took advantage of a vulnerable young girl who was besotted with him.''

Kerner, who was vice principal of the school, insisted he was innocent and his defence branded the schoolgirl a "devious and wicked liar''.

But the girl's coded diary, mobile phone records and absentee logs helped prove the relationship took place.

On the day Kerner took her virginity in a school store cupboard in February 2012 the girl was marked absent from class.

But someone using Kerner's log-in details went into the school computer and doctored the records to make it look like she had been in, jurors heard.

The married teacher also took her back to his home for an all-day sex session in October 2012.

Infatuated, the teenager told her friends about the relationship, and three of her schoolmates were so worried about her they went to the police.

But officers turned them away saying they could not intervene unless the schoolgirl herself came forward.

Police eventually acted when a relative of the girl complained last year.

Kerner was granted bail until sentencing on 14 January 2015.