Terror Material Man Jailed
12 August 2014, 18:06 | Updated: 12 August 2014, 18:13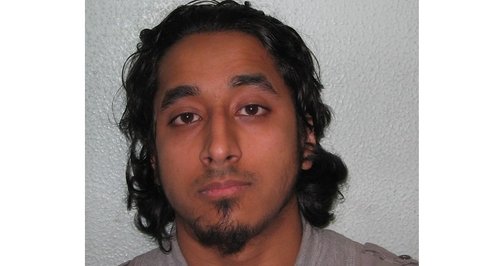 A man from east London who warned of a terror attack on William and Kate's royal wedding has been jailed for more than two and a half years.
An extremist convicted of trying to flee the country after he was caught with terrorist material on his computer has been jailed for a total of two years and seven months.

Afsor Ali, 27, from Bethnal Green tried to flee the country after he was caught with terrorist material on his computer.
He was found guilty of three out of four counts of possessing terrorist material following a trial at the Old Bailey.
Ali had earlier admitted possessing someone else's UK passport in an unsuccessful bid to flee on the Eurostar to Paris in March and on Tuesday 12 August 2014 he also pleaded guilty to a bail offence by failing to attend a court in February.

Judge Charles Wide QC told him he had made a "really determined attempt" to evade justice as he jailed him for 16 months for the passport offence and eight months for skipping bail to run concurrently.

He also jailed him for a further 15 months for possessing terrorist material which included information from al Qaida on how to make a bomb and how to use an AK47 gun.

The judge told Ali he had lied in his evidence when he tried to make the jury believe that while he was "radical and committed" he was "not an extremist and did not support terrorism".

He said: "It is absolutely clear you are an extremist and you do support terrorism."

Judge Wide went on: "While you were on bail, subject to strict conditions, you did not report to the police. Sadly action was not taken as early as it should have been.

"You then made a really determined attempt to flee the jurisdiction. You acquired somebody else's passport. I am told you had a lot of money on you. It is very obvious you were getting help. You are not just a loner. That is a very serious matter."

Ali, dressed in a cream tunic and hat, made no reaction as he was sent down.

Earlier in mitigation, his lawyer Naeem Mian argued that Ali had made no attempt to disseminate the terrorist material and there was no suggestion that he was himself a terrorist.

During the trial, jurors were told Ali was first arrested in December 2011 when he took part in a protest against American drone attacks in Pakistan alongside members of the banned group Muslims Against Crusades outside the US embassy.

He was released without charge but during the investigation an MP3 player was seized with a laptop and external hard drive taken from his home during a search.

When they were examined, they were shown to contain documents that were useful to terrorists, the court heard.

When police searched his home months later, they found his new computer also contained extremist material, jurors were told.

During the trial, prosecutor Oliver Glasgow told the court Ali had promoted extremism in YouTube videos under the alias Asad Ullah.

In a clip from 2011, he warns the viewer not to attend the royal wedding because of a terror attack.

In another clip, Ali hails the 9/11 attack as "an historic event", the court heard.

The jury was also told that in addition to documents he was charged with having, police recovered two personal recordings of a telephone call between the defendant and the radical Islamist Shaykh Omar Bakri Mohammed.

And he had a transcript of a speech given by Omar Bakri in which he seeks to legitimise suicide bombings.

On November 29, 2012, Ali was charged with possession of documents or records containing information of a kind likely to be useful to a person committing or preparing an act of terrorism contrary to Section 58 of the Terrorism Act 2000.

He was found guilty of possessing two electronic files containing Inspire - the al Qaida magazine - and an electronic file containing 39 Means to Serve and Participate in Jihad. He was found not guilty on a fourth count.

The judge ordered the destruction of the computers and MP3 player that were seized by police.