Thames Barrier Records Set
5 March 2014, 11:13 | Updated: 5 March 2014, 11:24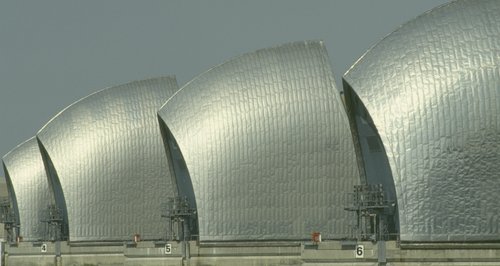 The Thames Barrier's been closed for a record 50 times this winter to protect London from flooding.
The defence reached the landmark on Tuesday 4 March 2014, making Winter 2013/14 the busiest period in its history.
The winter's been the wettest since records began, with the South East receiving well over double the amount of rainfall expected in a normal winter.
The Environment Agency say the Thames Barrier has had its part to play in protecting London and other riverside communities.

Since the Thames Barrier became operational in 1982, more than 25 per cent of all flood defence closures have taken place in the past three months.
A number of other notable milestones have been reached over the busy winter period:

-The morning closure on 10 February 2014 recorded the highest flow since we became operational with 505 cumecs recorded at Kingston (9,600mgd; million gallons per day).

- All of the top 12 ranked flows at Kingston during the barrier's 174 defence closures were achieved in February 2014.
- The barrier closed more times in February 2014 (28) than the previous record for a whole winter (24 in 2000/01).
- The first of the two closures in December was the highest tide at Southend that the Thames Barrier has ever closed in response to (4.10m).

- The flood defence closure on 7 February was the 500th closure of the barrier (including test closures).

- The closure on the morning of 9 February was the 150th flood defence closure of the barrier.

- The Thames Barrier has now closed 48 times in 2014 – already a record for a single year.


The barrier was closed for flood defence on four occasions in the 1980s, and has become gradually more busy since then, as it was designed to.

Andy Batchelor, Operations Manager at the Thames Barrier, said: "Along with the rest of the country, London and the communities alongside the River Thames have faced an extraordinary combination of weather conditions over the past few months.

"Due to unprecedented weather this has seen a blip in our 32-year history of 50 closures during a flood season, smashing several of the previous records for the Thames Barrier.

"The long term plan for the Barrier recognises that we will use it on average more frequently year by year and we are still forecasting not to need a replacement until 2070.

"I'm pleased to say the Barrier and its associated defences have stood up well to a significant series of tests, and is consistently performing to a very high standard to protect those communities who are at risk of flooding.

The Environment Agency is not anticipating closing again over the forthcoming tides, but will continue to monitor river and tide levels closely and will operate once again if required.