Tower Bridge Glass Smashed
24 November 2014, 18:21 | Updated: 24 November 2014, 18:24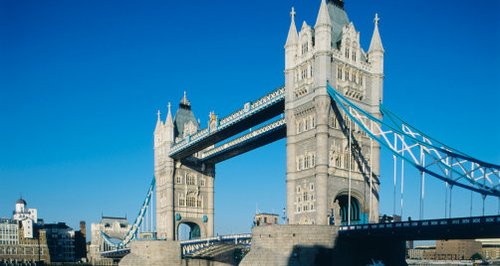 Engineers have had to replace the top layer of a new £1m glass walkway across Tower Bridge after a beer bottle was dropped on it.
The glass floor - which allows people to walk across the Bridge 138ft above the Thames - was unveiled on 10 November 2014.
Chris Earlie, head of Tower Bridge, said: "A sacrificial layer of glass on the new West Walkway at Tower Bridge Exhibition shattered on Friday evening, when an empty beer bottle fell from a tray being carried by a member of the catering team during an event. The floor was immediately inspected and covered to protect guests from glass splinters.

"Tower Bridge Exhibition's engineering team attended the site on Saturday morning and the sacrificial glass panel was replaced on Sunday morning. The exhibition space remained open to the public as normal and no visitors were at risk.

"The new glass floor has four layers of glass with the sacrificial layer on top of that - this is installed so that it can be replaced if it is scratched or damaged."