Train Deaths 'Suspicious'
23 September 2014, 18:20 | Updated: 23 September 2014, 18:25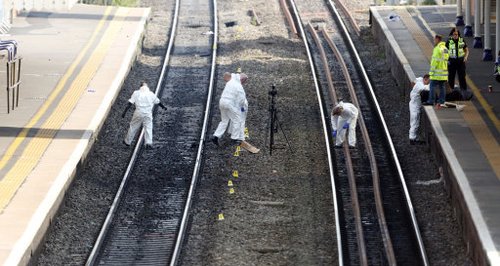 British Transport Police say they believe two people who died after being hit by a train in Slough were a mum and her 10 year old son.
They're looking into whether their deaths on the morning of Tuesday 23 September 2014 were a murder-suicide.
Chief Inspector Jenny Gilmer said the mother, who was believed to be 48 years old, and her son, who was believed to be 10 years old, were both local to Slough.

The pair were pronounced dead at the scene at Slough train station in Berkshire following the incident shortly before 9.45am.

They were yet to be formally identified.

Ms Gilmer said: "Whilst we have yet to formally identify the deceased we can confirm we believe the woman was 48 and the child was a boy aged 10.

"Both were local to the area and we believe they were mother and son.

"The incident is still bring treated as suspicious although officers do not believe there was any third party involvement at the station."

She said the possibility of a murder-suicide is "one of the lines of inquiry that our officers will be pursuing but we must not speculate".

The station has now reopened after it was cordoned off for nearly six hours while police gathered evidence from the scene.

The driver of the 08.41 commuter train from Bedwyn to Paddington was "incredibly shaken up" following the incident.

One passenger tweeted that the driver used the public address system to apologise to those on board.

Ms Gilmer said: "The driver is incredibly shaken up by the incident and is being supported by ourselves and train operator First Great Western. He's going to have been traumatised by it.

"Witnesses were also very shaken up by what they saw and it was a traumatic incident for the officers who attended the scene."

Officers combed the train tracks for evidence and studied the station's CCTV of the incident. A large number of witnesses both on the train and on the platform were also interviewed.