Twitter Troll Found Guilty
2 September 2014, 19:21 | Updated: 2 September 2014, 19:33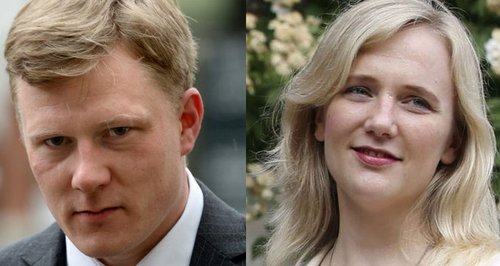 A man's facing jail after bombarding a London MP with abusive messages, calling her a witch and threatening to attack her.
Peter Nunn, 33, (pictured left) retweeted "menacing'' posts threatening to rape Walthamstow MP Stella Creasy (pictured right) after she supported a successful campaign to get Jane Austen put on the £10 note.

He launched his "campaign of hatred'' after the Labour politician backed a high-profile bid launched by feminist Caroline Criado-Perez to keep a woman on a British bank note.

District Judge Elizabeth Roscoe found him guilty on Tuesday 2 September 2014 of sending indecent, obscene or menacing messages.

She told City of London Magistrates Court: "I'm told lots of people joke about raping. I'm not sure I agree that these days that is a common form of humour in any form of media - whether it is in the privacy of someone's home or a bar.

"But this is not a casual throw-away comment within the restriction of one or two people. It is a casual conversation, but with a much wider audience."

She added: "I'm in absolutely no doubt that those tweets, on an objective basis, are menacing."

And she warned him: "I'm not ruling out any options, and that includes prison. And, as you are aware, prison is extremely likely."

Wearing a grey suit, white shirt and grey patterned tie, Nunn, from Bristol, stared straight ahead as the verdict was announced.

The self-styled blogger began leaving offensive posts on July 29 last year - five days after the Bank of England revealed Austen would be the new face of the £10 note.

He retweeted a threatening message sent to Ms Creasy which read: "You better watch your back, I'm going to rape your arse at 8pm and put the video all over.''

Over the next day Nunn, a part time delivery driver, sent a barrage of offensive messages to the London MP using the Twitter account @protectys.

In his next message he posted: "Best way to rape a witch, try and drown her first then just when she's gagging for air that's when you enter."

Later that evening he wrote: "If you can't threaten to rape a celebrity, what is the point in having them?''

Nunn also retweeted a "menacing" message composed by the @eatcreasynow account threatening to rape Ms Creasy, and added the post "Go get her, eat the meat!''

He also branded the Labour MP an "evil witch" and wrote: "What's the odds of Criado and Creasy snuggling and cuddling under a duvet checking their tweets and cackling like witches (rape me says Caroline).''

During his campaign of abuse, Nunn, who lives with his long-term parter and three year-old daughter, also posted six increasingly manic videos online in which he mocked campaigners.

And he accused Ms Criado-Perez, who also received a barrage of abuse, of lying about rape threats in a "hoax'' to clamp down on internet freedom. In the first video, shot in the dark with eerie purple lighting, he launched a tirade accusing feminists of "exaggerating" their abuse.

He ranted: "Feminists are using it (Twitter) to push their own agenda, I think it might be a hoax.''

He goes on: "I think they are witches, they are going to cast some spell over the freedom of the internet.

"They are probably working with the Government, the Government wants to restrict freedom. They just want to say to Twitter 'Get him, get him'.''

In another clip, he stands in an area of grassland, and rages about "evil witches of the coven'' and said Ms Criado-Perez "stirs up these women into a frenzy of hate''.

In another video, he plays the Wizard of Oz song Ding Dong The Witch Is Dead over a shot of his Twitter feed. Nunn was arrested at his home Emersons Green, Bristol, on August 7 after the women reported his abuse.

He denied using Twitter to advocate violence or rape, declared himself a "feminist", and said he retweeted offensive messages as "a joke" to "satirise" the debate around trolling online. But District Judge Roscoe said Nunn was not a credible witness - accusing him of being "evasive" and "delusional" in court.

She said: "He said he didn't think they (Ms Creasy and Ms Perez) were distressed. I'm sorry, I can't find that credible at all.

"It's within the context that other people have complained to him about the texts. He has seen the furore."

Nunn was found guilty of sending a message that was grossly offensive or of an indecent, obscene or menacing character by a public electronic network between July 28 and August 5 last year.

Sentencing was adjourned until 29 September for reports to be prepared. Prosecutors said they will also be making an application for a restraining order preventing Nunn from contacting Ms Creasy.

Outside court, Nunn said: "It is a sad day for free speech. I think my tweets have been misinterpreted.

"I never had any hate towards either Stella or Caroline Criado-Perez. I will be appealing."