Two New Statues For Trafalgar Square
7 February 2014, 11:26 | Updated: 7 February 2014, 11:44

A skeleton horse and a 10-metre-high thumbs up are the latest works that will take their place on Trafalgar Square's fourth plinth.

The horse, complete with an electronic ribbon tied to its leg displaying the latest live Stock Exchange prices, is by German artist Hans Haacke and will be unveiled next year.

David Shrigley's bronze Really Good will be unveiled in 2016.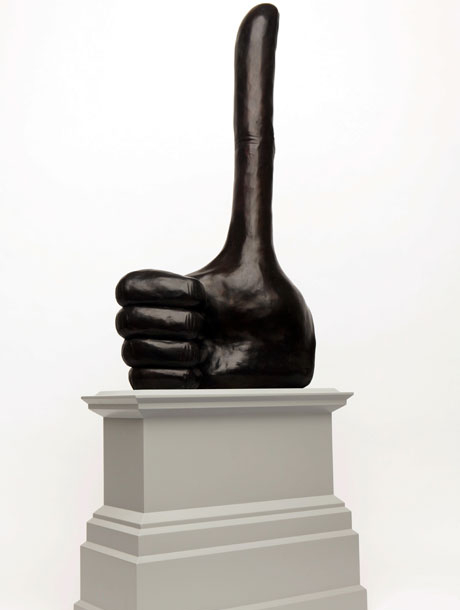 Mayor of London Boris Johnson said the "two very different sculptures" were "wryly enigmatic in their own way".

He said: "Our rolling programme of art continues to surprise, providing a contrast to its historic surroundings and giving Londoners and visitors alike another reason to visit Trafalgar Square."

Haacke, whose work is based on an etching by artist George Stubbs, said he hoped it would fit in with the other more traditional sculptures in the square.

He said: "I hope the other two horses on Trafalgar Square, the one carrying Charles I, strutting, and the other, with George IV on its back, rather stoic, accept the newcomer graciously and recognise that their temporary companion has a lot to talk about."

Haacke said he also hoped visitors would be "intrigued by what the ticker of the London Stock Exchange tells them about their fortunes".

The plinth, in the northwest corner of the square, was built in 1841 to hold an equestrian statue of King William IV but the money ran out and it was left empty.

Three works were commissioned in 1998 to fill the plinth with Mark Wallinger's christ-like figure Ecce Homo the first to be displayed there in 1999.

Lois Rowe, programme director of fine art at Wimbledon College of Art at the University of the Arts London, said the plinth had made a real difference to how people in the capital view art.

She said: "Like the Tate's turbine hall, the fourth plinth attracts a new audience for art that isn't simply made up of people who go to art galleries. It has in a way broken down some of those cultural barriers around who looks at art and those who are capable of engaging with it.

"This is a very exciting thing for London and I think more globally other cities should be looking at the fourth plinth as leading in this way."