Postbox Painted Gold
20 February 2014, 13:20 | Updated: 20 February 2014, 19:07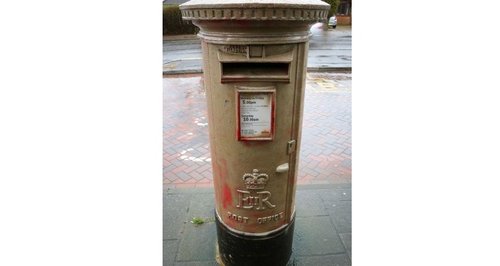 Someone's secretly painted a postbox gold in Winter Olympics champion Lizzy Yarnold's home village in Kent, after Royal Mail said they wouldn't.
They struck overnight on Wednesday 19 February 2014 in Hever Road in West Kingsdown, near Sevenoaks, Kent, to honour 25-year-old Yarnold's medal-winning achievement.

She won Great Britain's first gold at the Sochi Games in the women's skeleton, prompting a campaign to paint a postbox gold for her in the same way Royal Mail did for London 2012 champions.

More than 43,000 have signed an online petition, and hundreds of Twitter users, including double Olympic champion Dame Kelly Holmes, have used the hashtag #paintitgoldforlizzy.

The Royal Mail say they have no plans to decorate any postboxes.

A spokesman said 2012 Games was a "unique occasion" as host nation, and it was "exploring other ways of marking the achievements of our athletes".

Now vandals have crudely painted a postbox gold to mark Yarnold's Olympics triumph, with parts of its original red paint still visible.

Bob Wicker, who runs West Kingsdown Fruit and Veg, said: "The postbox has been painted, but it looks like someone has just put on an undercoat.

"It's a very wishy-washy coat of gold, and it looks like it has been done in the middle of the night. It doesn't look great.

"I'm wondering whether they'll come back at some point to put on a second coat."

A Kent Police spokeswoman said the repainted postbox had not been reported to them. A Royal Mail spokesman said: "Royal Mail will not be providing any further comment on this matter."

Yarnold has retweeted messages supporting the campaign, which has been led by her local newspaper, the Sevenoaks Chronicle.

She has tweeted: "I've just read the conversation Piers Morgan had with himself after the race! Very very funny, thanks for supporting me."

As the momentum continued, her mother Judith said she hoped the Royal Mail would bow to public demand, to inspire future generations of Britain's sportsmen and women.

Mrs Yarnold, a teacher, said: "This isn't about me or us, it's about recognising the achievements of the Olympians who have put in so much effort to gain their achievements.

"They put in an amazing amount of work to get where they are, and the public clearly want to recognise this by having gold postboxes.

"As a mum, I know what it takes, not only for the Olympic athletes but also for the parents. Every parent has given up so much to get their children to where they are and they have enjoyed doing it.

"A lot of people who are not sporty tend to understand what the Olympics means. It would be nice to see the inspiration and the recognition given by the gold postboxes carry on."

Online campaigners say the achievements of Winter Olympians should be celebrated just as those who won gold at the Summer Olympics were.

Gill Curtis-Shaw, from Cheshire, wrote: "Come on, a GOLD medal is a gold medal, paint the postbox and show the country how much we appreciate our sportsmen/women."

Antony Housley, from Hoylake, wrote: "Lizzy should receive the same accolades as the 2012 athletes. In the spirit of fairness the postboxes should be gold."

Despite the growing campaign, Royal Mail said its position had not changed. A spokesman said: "London 2012 was a unique occasion. The UK hosted the Games and our athletes performed extraordinarily well.

"Because of our status as the host nation, Royal Mail chose to mark the achievement of our athletes through gold postboxes as well as stamps.

"For the Winter Olympics 2014 Royal Mail will not be creating gold postboxes but we are exploring other ways of marking the achievements of our athletes, including creating a special postmark."