Heart Breakfast: Behind The Scenes
Hi! This morning Jamie described our show as "Like a swan: Calm and effortless above the water, but chaotic underneath." He was talking about the #BehindTheScenes tweet-a-long I was doing all morning, and it's a pretty accurate description.
I suppose I should introduce myself – I'm Geoff, I'm the exec producer of the show, and along with Anna & Matthew we're the 'backroom' engine behind what you hear. More on exactly what we do later...
Here's me at work this morning, taking pictures to tweet to you. The beard's a fairly new addition. I like to style myself on the great Jamie Theakston!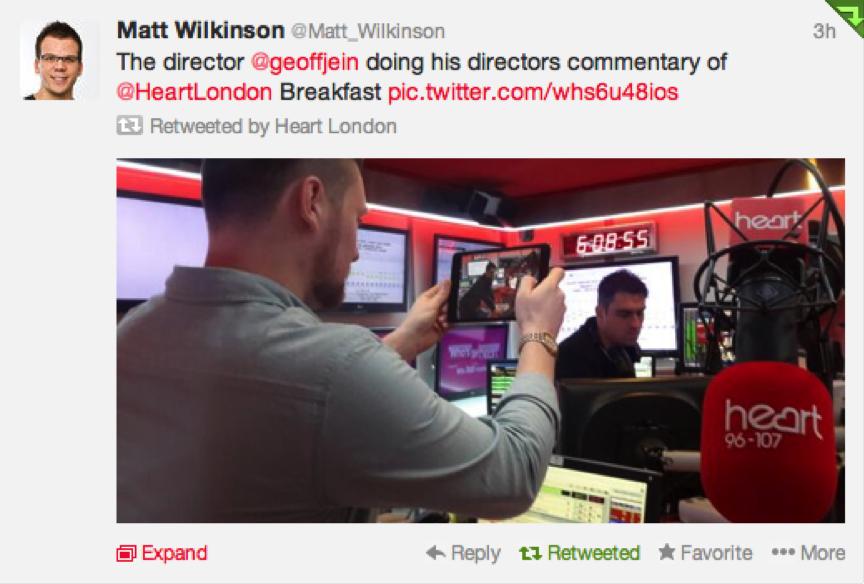 The idea was to give you an insight into your favourite breakfast show, and let you behind the 'wizard's curtain' for the morning.
I first told Jamie we'd be doing it at about 5.50am as he was prepping for the show. By 'prepping' as you can see below I mean reading the papers, any scripts Anna and I have written, and making his own notes. I know what you're thinking; some preparation does go into this show!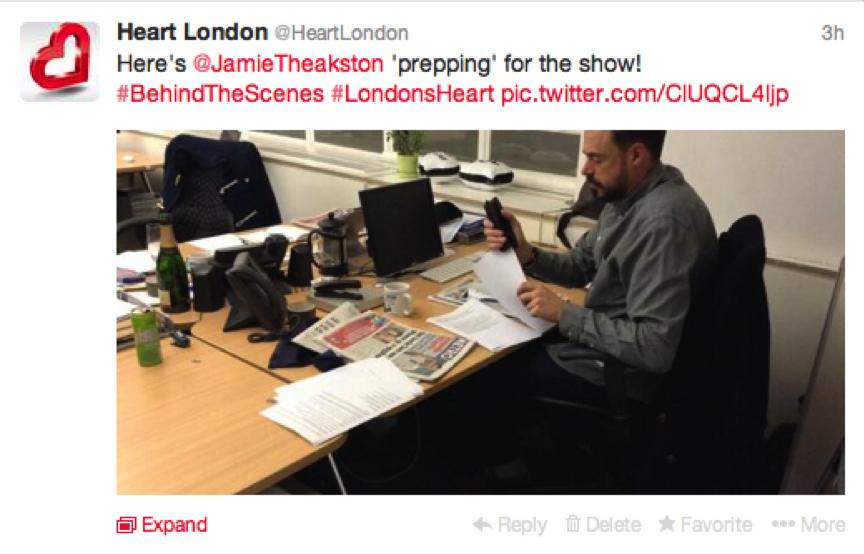 At 5.57am we hear Matt Wilkinson say goodbye, and we move en masse into studio 4A (below) to start the show.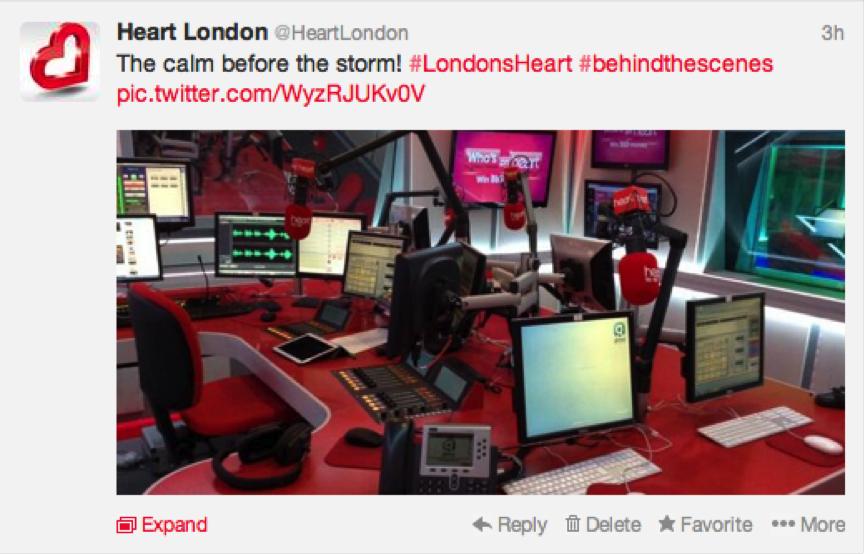 You wouldn't hear ANYTHING if it weren't for this guy! Matthew 'drives' the show, and having stood in for him when he's on holiday I can honestly say it's one of the toughest gigs going! Watching out for Jamie's slight nod of the head, which can mean anything from 'Play the song NOW' to 'I'm going to talk for a bit longer, so don't press anything' is an art in itself. At times watching Matthew is like watching a concert pianist in full flow!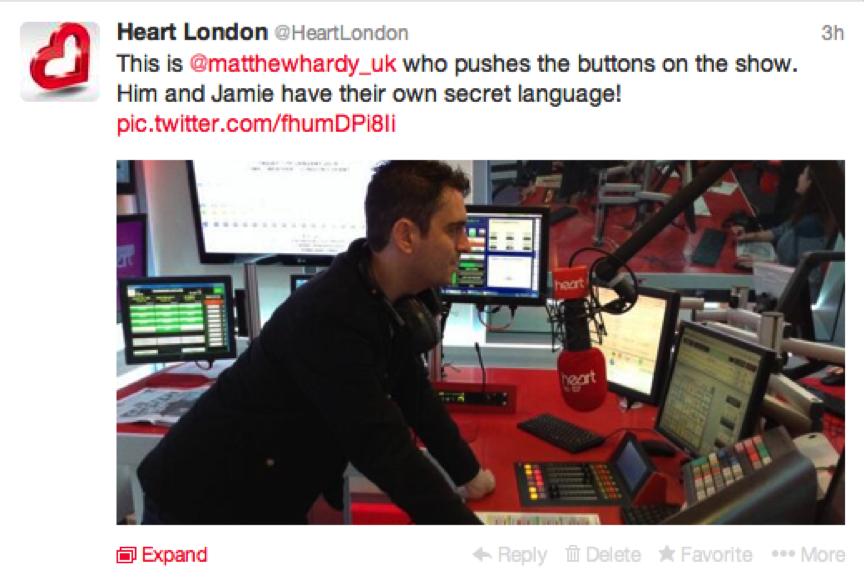 You'll know Holly and Jay-Louise already, Jay stands in for Joanne to do the travel updates whenever Joanne's away, and I promise I tried all morning to get a good photo of the two of them. As Jamie said on-air this morning – they're both gorgeous, but at 6am with no make-up you can imagine why they were a little camera-shy!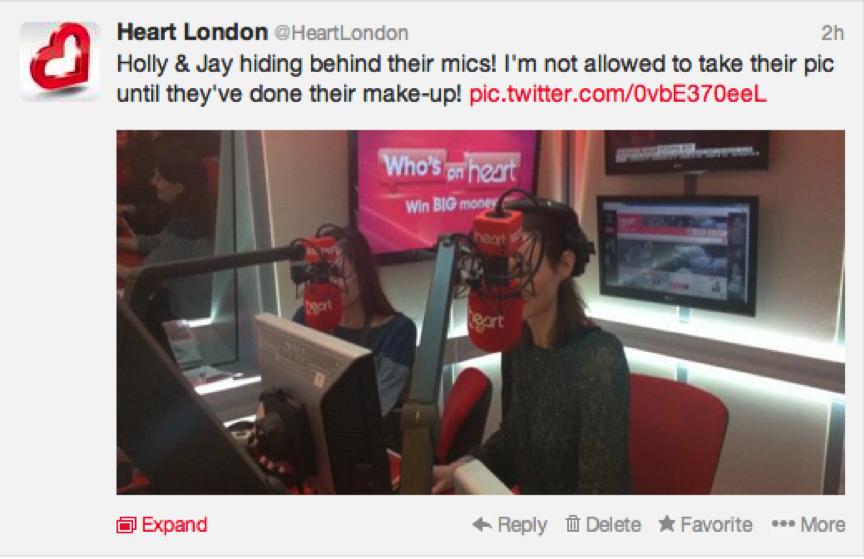 Holly used to do the news from another studio, but it's a lot more fun when she's in the same room, so we moved everyone into one studio. It's like the most expensive, technically complicated breakfast table in London now!
Talking of breakfast. It's the answer to; "What do you guys talk about while the songs are on?" Breakfast. Producer Anna sends through an order every morning, and just the process of deciding who's having what can take anywhere up to an hour.

This morning while Holly and Jay-Louise discussed eggs, Jamie was deep in conversation with Matt Wilkinson about the cricket in Sydney. (I thought twice about taking this picture… I'm pretty sure we're not MEANT to be watching cricket during the show.)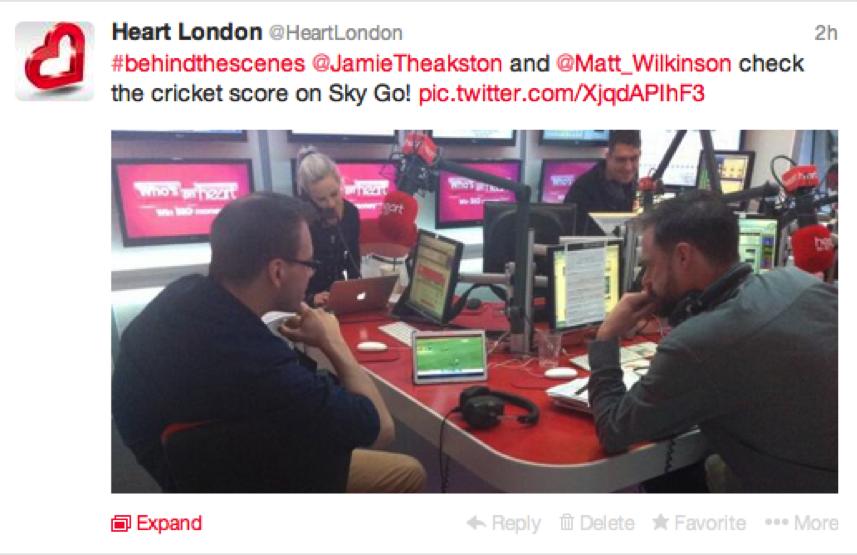 One of my favourite parts of the show is our 'Top Ten at Ten Past', I don't know if you've ever noticed but we don't do it at 7.10… it's closer to 7.20. It's also when you guys do your best work. Despite the fact that we've been thinking about ideas for the Top Ten for over an hour, you always come up with the best ones! This morning's theme was '#IllFilms' and you didn't disappoint. We read every single one that comes into the studio… although as this picture shows, there's often a good reason why we don't read them out on air!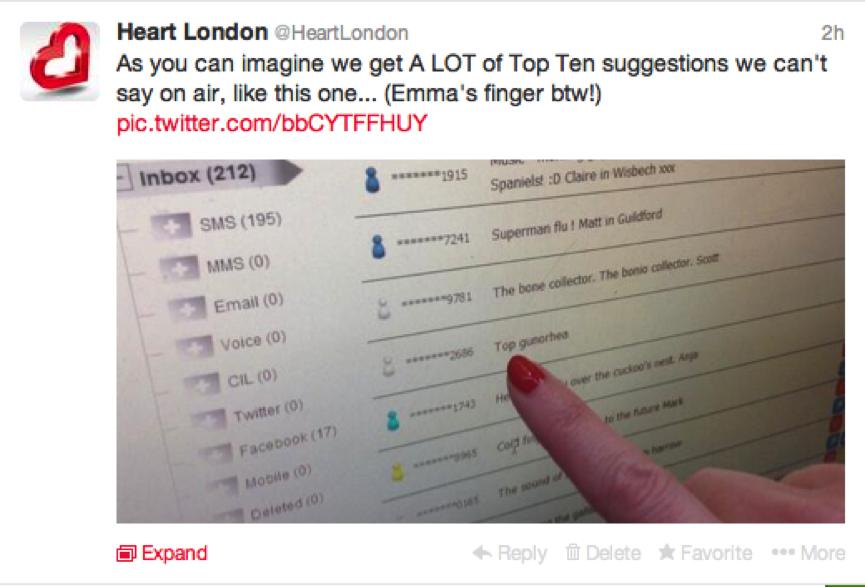 Back to Producer Anna… she's the one who's REALLY in charge during the show. She makes sure Jamie and Emma always know what's coming up next, and keeps the show on track. (She is currently single, although this picture got a lot of attention on Twitter this morning, so that could change soon!)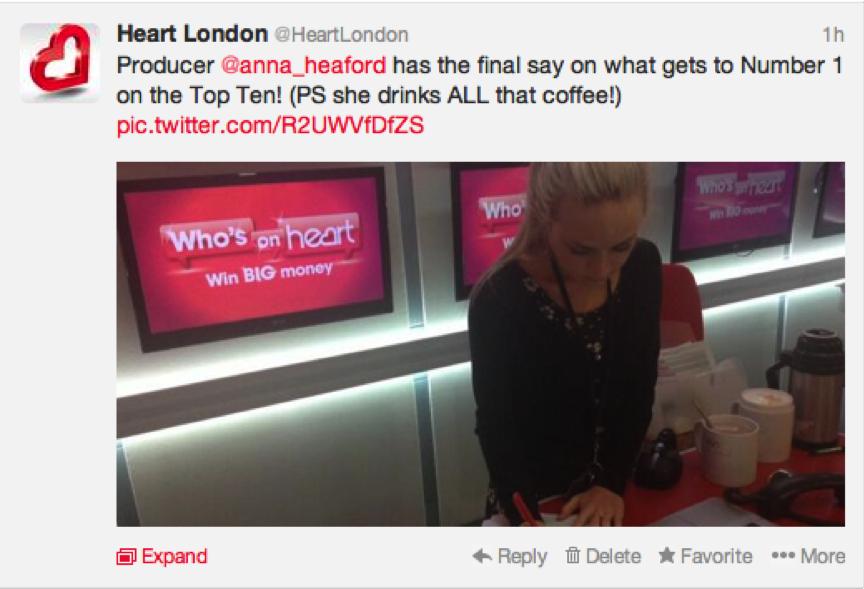 One other thing about Anna… she's INCREDIBLY clumsy. If you ever hear a cup being dropped, a chair being knocked over, or someone tripping up in the background of our show you can guarantee it's Anna….
… or Jamie. He's pretty messy too. He swears to me that he knows where everything is in this pile. I'm not entirely convinced.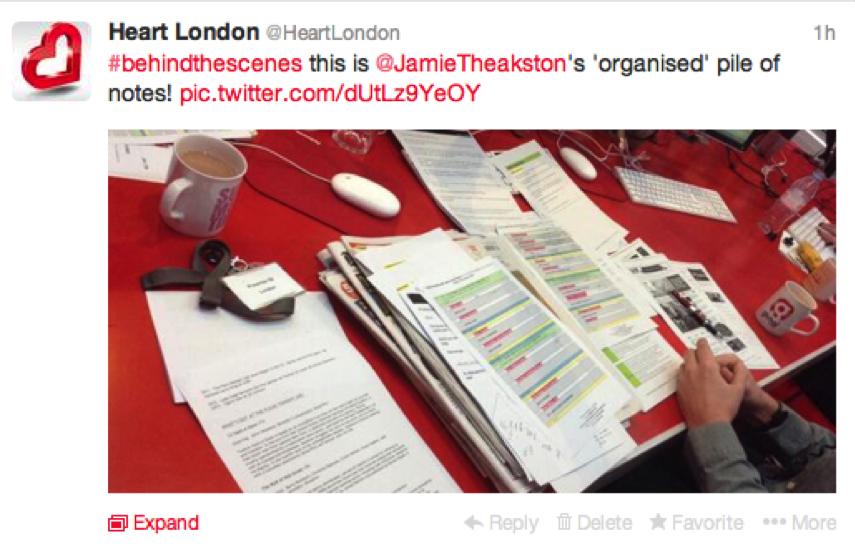 One thing Jamie never loses is his breakfast. He also never shares it, MUCH to Emma's constant annoyance. But it was Holly who tried to get her hands on Jamie's sausage this morning. She really should know better by now.

And that, in a nutshell is what goes on behind the scenes on an "average" day at London's Heart Breakfast.
It's a genuinely funny room to be in every morning and it's great to have you with us. It was a lot of fun tweeting from behind the "wizard's curtain" this morning... Although I suspect that Jamie might not agree!
Don't forget it's YOUR show, so you can always get in touch and speak to us. Text 82122, call 0345 6051062, like us on Facebook, or follow us on Twitter.
Geoff