Lucy's Blog from Walt Disney World Day 4
Lucy shares some of the cool experiences you could be enjoying at Walt Disney World and lets you know how you could WIN!
Hiya!

So, Day 4 here at Walt Disney World Resort in Florida and we went to JK's favourite park - The Animal Kingdom!

We started the day with a thrill seeking attraction, the brilliant Expedition Everest! This was one of our favourites last year. I mean, who doesn't want to be chased down a mountain by the Abominable Yeti at high speed?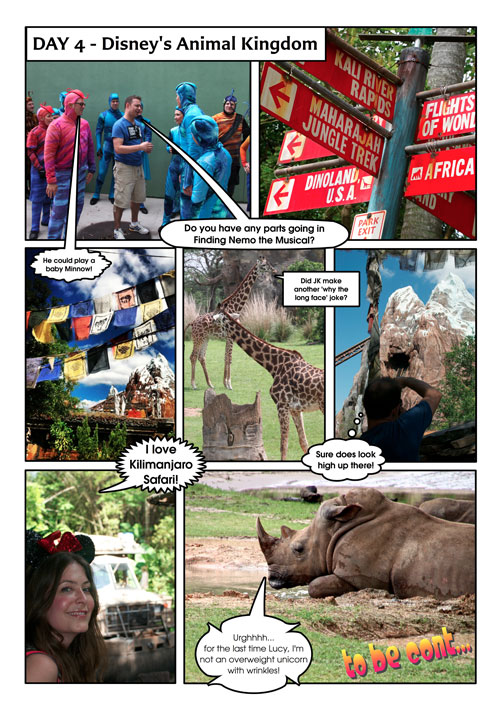 We continued our high octane mission with a ride on the Kali River Rapids, a rip roaring, fast paced adventure through the Jungle. You will get wet, possibly even soaked to the skin, a perfect way to cool down after a day in the Floridian sun!

Up next was something very entertaining, and massively impressive - the brilliant Finding Nemo: The Musical. It has to be seen to be believed! It really is a fantastic recreation of the story of the adorable Clown Fish and friends, in musical form! The scenery, costumes and characters look amazing, definitely a must see. The kids will love it.

We ended the day with the lovely, relaxing Kilimanjaro Safari, where we spotted Giraffes, Hippo's taking a cooling dip in the water, and Lions catching a few rays, having a lazy day! From Baboons to Rhino's, there's over 30 different species of exotic African wildlife on this stunning Safari. If you've always wanted to be David Attenborough, you have to check this out!

Tomorrow, it's all about my favourite park, the amazing Magic Kingdom!

Lucy xxx