TV Show Claims To Find You 'THE ONE' by Dating In The Buff!
A controversial new television show claims that dating without clothes could help singletons find their perfect match. 'Dating Naked' claims it's "easier to find your true love when you have nothing to hide" and despite the social experiments' high success rate, most viewers have been left wondering whether reality TV has gone too far this time around.
You're single and offered the opportunity to be flown out to a beautiful island in the tropics where you're treated to a string of romantic dates with eligible suitors, one of which is almost guaranteed to be your true love. Sounds pretty perfect eh? Well, according to a new US TV show there is a catch - you have to spend the entire holiday completely in the buff!
While most couples get the jitters when anticipating stripping off in the bedroom, something tells us this experience must have been a little more than awkward for the 12 contestants on the show as they participate in activities such as naked swimming, naked horseback riding and even naked elimination ceremonies. Wowzer!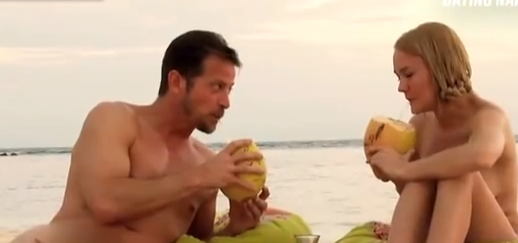 Picture: Dating Naked Trailer/ VH1 Youtube
As shocking as this may sound, it's claimed the show boasts a high success rate of 60% compared to its reality dating show competitors and is set to air its first wedding special.
What's more, it's thought that nude formats are set to be the latest trend within US reality television as multiple networks have snapped up spin-off series such as 'Naked Vegas', 'Buying Naked' and the Discovery Channel's Bear Grylls-esque survival show 'Naked and Afraid'.
Let's just hope there won't be a naked 'X Factor' anytime soon, we're not sure whether we want to see Simon Cowell in the buff!
dating naked is like my favorite show and i hate trying to explain why to people

— EmilyAnn (@immmablondee) August 18, 2014
This dating naked show is kind of weird...but the idea of it..hmm

— Michael Buchanan (@MikeBuke99) August 17, 2014
I'm watching Naked Dating, so I guess I've pretty much given up on everything.

— Hal Lublin™ (@hallublin) August 16, 2014
this dating naked show just annoys me, it's pointless