Controversial Shoe Ad Claims 'Man-Hunting' Heels Can Bag You A Man.
In a throwback to the 50s a popular shoe brand has caused a storm as their latest campaign claims a new collection of heels will help single ladies bag their 'starter husband', presumably before upgrading to a real one! Yep you heard it girls!
Picture this ! So you're dropping your child off on their first day at school, what do you wear? Well according to shoe brand Nine West you'd be so overcome with grief that buying a pair of heels from their latest range would prove the perfect remedy, and what's more you'll get to make the other yummy mummies green with envy of course!
And if you're single? Don't fear because the brand's stylish range of stilettos, in particular the leopard print heels are apparently your secret weapon to bagging that 'starter husband', that is before you trade him in for a real one. Oh! And don't forget the trendy handbag that will help you through the embarrassment of that 'anticipated walk of shame'.
These are just some of the dubious claims made in Nine-West's new ad campaign.
"Go get 'em tiger," reads one of website ads for their man-catching heels. "Whether you're looking for Mr. Right or Mr. Right Now … we've got a shoe for that."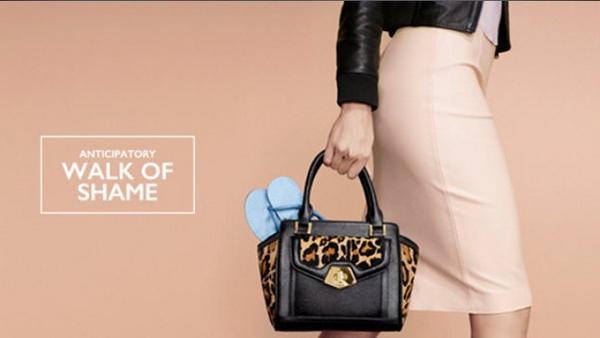 A company representative says that the new campaign, targeted towards females aged 25-49, "is not offensive" and is an attempt to modernise the brand, however, it continues to ruffle feathers among Twitter users who feel its depiction of women is more 'Mad Men' than 2014!
.@NineWest, after catching a spouse in husband-hunting heels do I go barefoot in pregnant in the kitchen? http://t.co/Q5xvm05mvD #NoneWest

— Nina Bargiel (@slackmistress) August 5, 2014
On Nine West's site and I can't find "I Won't Sign Your Prenup" pumps anywhere.

— Andrea Lavinthal (@andilavs) August 5, 2014
Other occasions Nine West should make shoes for: graceful exits from bad dates, Tindering, explaining to grandma why you're (STILL) single

— Kate Guarente (@kate_guarente) August 4, 2014
Apparently women are reduced to two activities - husband hunting and childcare. Slow clap @NineWest via @TIME http://t.co/ytL8vdjPEG

— Sophie Murray (@SophMuz) August 6, 2014
Nine West why are your hunting husband shoes NOT for hunting and killing actual husbands?????

— Sylvia Wickersham (@Loolabette) August 5, 2014