Ten Things Benedict Cumberbatch Says Make His Ideal Woman
5 November 2014, 10:49 | Updated: 6 November 2014, 09:29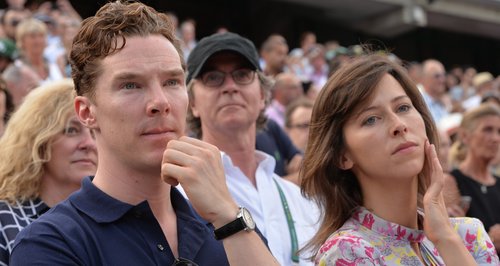 It was one heck of a classy announcement. The pair beat the press and revealed the happy tidings directly to their many fans via the traditional way of the Forthcoming Marriages section in the Times Newspaper.
Yep ladies, he's officially off the market *sob*
Okay, okay, we're thrilled for both of them really. (Promise!)
Update:
It's not only us who are excited about the news: "We are very happy for them." Sophie's happy mother Katharine told The Mirror. "It's a really fabulous day".
Meanwhile the bride-to-be's brother Patrick added: "We're all very happy for Soph – it's really exciting."
So let's be honest, the question millions of girls (including us) will be asking themselves today is how exactly did the lucky lady do it?
Well here's are Sophie's sweet points and they're just what Benedict looks for in a woman:
1. A Career Woman
'The Imitation Game' actor is a renown culture vulture who loves the theatre and is most at home on the stage. Meanwhile Sophie is a theatre director and actress who has starred in TV shows including 'Torchwood' and 'Midsomer Murders'. The couple actually first met on the set of Susan Luciani's film 2009 'Burlesque Fairytales' - the perfect fit.
2. A Brainy Gal
Benedict has often spoken about his admiration for an educated woman - Sophie studied Modern Languages prestigious British University of Oxford. (Errm, WOW!)
3. A Good Talker
With her kickass degree in French and Italian, there's not doubt whatsoever that the actress has sparkling conversation. Cumberbatch has previously mentioned that he finds great chat ever so "sexy".
4. Manners
Cumberbatch goes about things in a classic manner. The actor reportedly went to Edinburgh to ask Hunter's mother permission before asking for her hand in marriage and then the pair took out a joint announcement in The Times wedding section. Bless.
5. Brunettes
She's a gorgeous brunette!!!
6. A Girl Who Can Pull Off Dressing Down Brilliantly
Although we knew Benedict was dating, his fiancée hasn't often appeared alongside the beau and certainly couldn't be accused of being a limelight hogger. "A woman who knows that she doesn't have to get all decked out to look good is sexy" the actor has previously revealed.
7. A Sporty Type
She rocks at tennis - enough said!
8. G.S.O.H
The 38-year-old actor also says he appreciates a good sense of humour... and judging from the photos below, that's pretty clear!
9. The gorgeous actor has also said that he thinks women who are "good at working with others are sexy". After her University days, Sophie attended the Jacques Lecoq school of theatre in Paris, and a career in theatre necessarily involves working closely alongside lots of different and interesting people.
10. Did we mention she's absolutely stunning?!
Blimey, what a gal!
And it's pretty clear why the lovely Sophie fell for the most handsome British actor around!
Don't even get us started on the time he got his Thriller' on...
The big announcement looks something like this: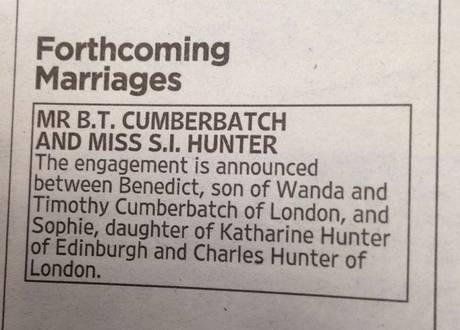 D'awww!
Fans have been revealing their reactions on Twitter.
They largely go something like this...
#BenedictCumberbatch's engagement has been announced. The Internet will break in 3, 2, 1...

— Jacqueline L. Hope (@JacLHope) November 5, 2014
Their children will have amazing cheekbones. #BenedictCumberbatch #SophieHunter

— Vesper Lynd (@__olivegreen) November 5, 2014
The slightly less traditional reason for remembering Fireworks night...
REMEMBER REMEMBER THE FIFTH OF NOVEMBER THE DAY BENEDICT CUMBERBATCH ANNOUNCED HIS ENGAGEMENT. #BenedictCumberbatch

— Vesper Lynd (@__olivegreen) November 5, 2014
Well we certainly wish the new couple all the best!