North East Mental Health Trust Hits Out Over Halloween Costumes
22 October 2014, 05:00
A North East health trust boss calls Halloween fancy dress outfits featuring straitjackets and "psycho ward'' references offensive and damaging.
John Lawlor, chief executive of Northumberland, Tyne and Wear NHS Foundation Trust (NTW), said people would never wear a "cancer patient'' Halloween outfit, and so they should not treat mental health issues so flippantly.

He's urged people not to buy outfits which stigmatise patients.

He was talking about costumes advertised on an online joke shop which include an orange jumpsuit with a "Psycho Ward'' logo.

The model is wearing a Hannibal Lecter-style mask and holding a large syringe. The outfit costs £24.45.

There is also a "skitzo'' costume (pictured below) - a reference to schizophrenia - which shows a model in an orange suit, with a muzzle, arm chains and a belt. That's advertised on Newcastle-based fancy dress shop 'Magic Box's' website.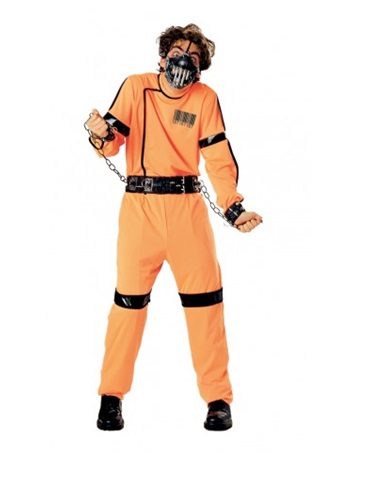 Mr Lawlor said:
"For most people, getting dressed up at Halloween is all a bit of fun; however, some of the costumes we've seen being sold carry a much more serious, and damaging, message.

Every year many thousands of people across our region receive treatment for mental health problems, some of them serious enough to require hospital treatment.

To see derogatory terms for such hospitals and their patients used so flippantly in an effort to make money is offensive.

Such representations have a real impact on how mental health is viewed, particularly by the young who many of these costumes are aimed at, and I would ask people to bear this in mind when spending their money.

Imagine a 'cancer patient' Halloween costume and how offensive that would be and you will have an idea of how offensive some of these costumes are in relation to mental health problems.''

The trust is campaigning to end the stigma surrounding mental health.

Graham Shaw's one of the business partners at Magic Box fancy dress shop in Newcastle:
"There's been costumes around for years called various different things and it's never bothered anybody.

We're talking 20-25 years.

People will kick up a stink about anything these days just to get a bit of media attention.

There's costumes of 'deadly doctors' - does that mean all doctors are killers?

There's also a 'deadly cop' costume - so are all police officers deadly?

It's just a total load of rubbish.

I don't think there is a stigma attached to it, it's just what the costume's called.

It's not aimed at anybody in particular."