UPDATE: The Dancing Cop is back!
This little girl's version of Taylor Swift's Shake It Off will make you smile. Very cute!
Earlier in the week a police officer in Delaware gained attention for a different kind of beat, after appearing in a video that sees him rocking out to Taylor Swift's 'Shake It Off' in his car.
If you missed the video I mentioned earlier in the week, here's Officer Jeff Davis' version:
Dover Police Department, in Delaware, uploaded this video to Facebook. It sees Officer Davis at the wheel of his patrol car giving it some 'sass' (as Taylor Swift says) as he drives around in his patrol car before going completely deadpan as he passes pedestrians in the street.
It's brilliant! Luckily for them though, Taylor Swift has made it clear that she adores the video, tweeting her admiration for Officer Davis.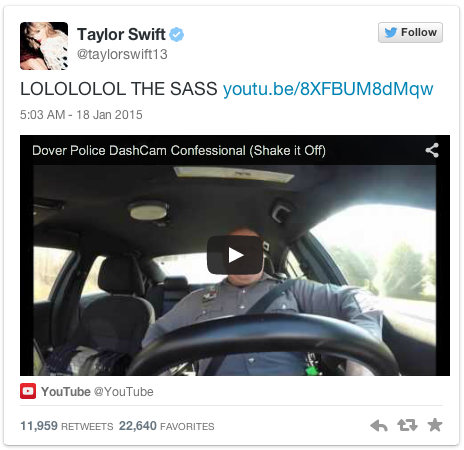 I wonder what she thought of the two year old's rendition!
UPDATE: He's back! This time though at an event. The cop's making a name for himself:
Toby