Balcombe; Fracking unlikely
14 August 2013, 11:41 | Updated: 14 August 2013, 11:48
Energy company Cuadrilla is unlikely to turn an area which has become the focus of anti-fracking protests into a fossil fuel production site.


The firm, which started exploratory oil drilling near Balcombe, West Sussex, earlier this month, said there are likely to be other more suitable sites instead.

A Cuadrilla spokesman said: "The site is unlikely to go into full production. We are not ruling it out completely. The fact is that we have a large licence area and there are likely to be more suitable sites elsewhere.''

The company also said it was not planning on focusing on any more sites "at the moment'' in Sussex, a county which has become a focal point for anti-fracking protests.

For more than two weeks, campaigners have staged a gathering at the entrance to the exploratory site in a bid to highlight their concerns about fracking and slow down deliveries.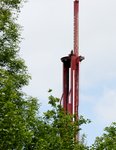 Although Cuadrilla has said it does not propose to conduct hydraulic fracturing in the area, opponents to the extraction method fear the company could do so in the future.

The controversial method of fracking involves high pressure liquid being pumped deep underground to split shale rock and release gas supplies.

Opponents of fracking have highlighted concerns about potential water contamination and environmental damage, as well as small-scale earthquakes.

David Cameron has insisted the whole country should accept fracking, claiming it will attract "real public support'' when the benefits are explained, such as potentially cutting energy bills.

The Prime Minister said the process would not damage the countryside and cause only "very minor change to the landscape''.

Mr Cameron also claimed a thriving shale-gas industry could create tens of thousands of jobs.

He sought to play down fears about the environmental dangers posed by fracking, claiming there was "no evidence'' that it would cause contamination of water supplies or other damage if properly regulated.

Later this week, hundreds more activists are expected to descend on Balcombe for a six-day camp, dubbed Reclaim the Power.

Alison Stevenson, the chairman of Balcombe Parish Council, has written an open letter stating that if the No Dash for Gas group intends to break the law during the event, starting this Friday, then it should stay away.

Ms Stevenson wrote: "Balcombe strongly opposes any actions which may be taken which involve civil trespass and/or illegal acts.

"And I further state this, if the No Dash for Gas group is coming here in the full knowledge that it intends to break the law then it should stay away. It is not wanted in Balcombe. It is duly uninvited.''

A spokeswoman for No Dash for Gas said: "It's going to be fun, friendly and open, and both the camp and the activities undertaken will be participatory and accessible.

"People will be taking direct action but there is no intention to get arrested and break the law, and if there is any violence it will not come from us.''