Brighton: Giant's Maze Open For Summer
4 July 2013, 14:05 | Updated: 4 July 2013, 14:27
A brand-new maze opened on the lawns in front of Brighton Pavilion this morning (4 July).
Inspired by Oscar Wilde's 'The Selfish Giant', a fairy tale about a Giant who doesn't want to share his garden with children, the maze has been created by the team behind the annual Royal Pavilion Ice Rink.
Parents and children invited by Brighton's Amaze charity were amongst the lucky ones to try the maze first.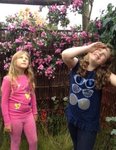 Shella Parkin, one of the creators, told Heart: "I've always loved mazes and felt the Pavilion deserved its own one as there has been a long history of association between historic buildings and mazes. Our design is inspired by a story I've loved since I was a little girl and have read to my own children."
The maze is based on a Roman design and made up of over 300 metres of paths with beautiful hidden garden rooms, inspired by the four seasons in the giant's garden.
Special interactive sound effects, created by a local firm involved in the Olympics, play as you walk around. Also lining the route to the centre of the maze are giant gardening tools, riddles and traditional games, such as Nine Men's Morris and Fox and Geese.
Pavements from Brighton Station to the Pavilion have been specially marked with the "giant's footprints" to guide families to the attraction on opening day.
The organisers were keeping tight lipped about whether there was a giant at the centre of the maze, telling Heart: "You'll have to visit to find out!"
For more details, visit the Selfish Giant Maze Facebook page.