Brighton: Marathon Route Changes Revealed
5 December 2013, 10:14 | Updated: 5 December 2013, 12:05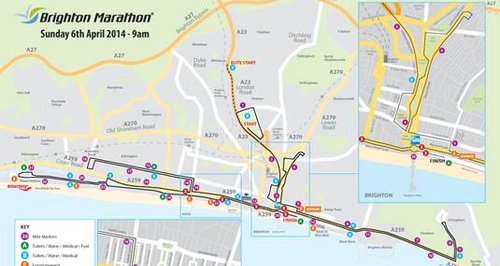 Organisers for the Brighton Marathon have released maps for a faster and flatter course next year.
The changes to the route come in miles five and 10.
In mile five, a new loop has been introduced at the northern end of The Level.
This is to make up for the big hill in the Rottingdean leg at the easternmost end of the route, between miles nine and 10, which has been taken out.
It is expected that the change will make the course faster than ever.
The BM10k is also a new event that will start in Preston Park at 8.30 am from the Marathon start, 30 minutes before the Marathon itself gets under way at 9.00 on Sunday April 6 2014.
The fast and flat 10k runs through the town centre before heading out west towards Hove Lawns.
The final three kilometres will follow the Marathon route to the finish along the sea front in Madeira Drive.
The new promotion is part of the further development of the Brighton Marathon Weekend.
The Brighton Marathon Weekend begins on Friday 4 April with the two-day action packed Exhibition in the Brighton Centre.