Eastbourne: Workman Who Fell Named
20 August 2014, 13:39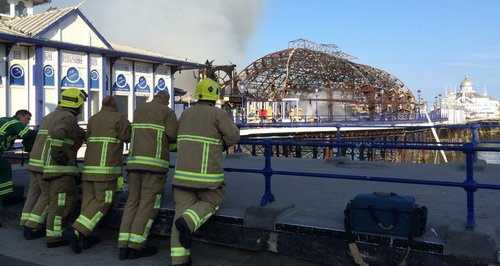 The man from Cumbria who died while working on fire-damaged Eastbourne pier has been named.




Stephen Penrice, 44 from Sandy Lonning, Netherton, is believed to have fallen from Eastbourne Pier, East Sussex, Sussex Police said.

Emergency services were called but Mr Penrice was pronounced dead at the scene.

Sussex Police and the Health and Safety Executive (HSE) are investigating the incident.

A joint statement issued by Eastbourne Borough Council and the Eastbourne Pier Action Committee, said: "We are shocked and saddened by the death of a contractor on Eastbourne Pier.

"Our thoughts are with his family and friends back in Cumbria, and his work colleagues, at this enormously difficult time.

"We are seeking contact details for the man's next of kin and we will be sending our condolences to them.

"The Health and Safety Executive and the police will be on the pier.

"Once their investigations have been completed, the pier contractors will be allowed back on site to continue with crucial work to make the pier safe and rebuild it.''

A spokeswoman for Cuerden Leisure, which owns the pier, said: "This is a terrible tragedy and we are working with the police to establish exactly what happened.

"Our thoughts are with the family and colleagues at this time.''

On July 30, fire destroyed part of the 144-year-old pier.

At its height, up to 80 firefighters tackled the inferno on the Grade II* listed Victorian attraction, which left the dome-shaped amusement arcade near the entrance a scorched shell.

No one was trapped by the blaze and the pier was evacuated quickly.
Eastbourne MP Stephen Lloyd said Mr Penrice's death was "devastating'' and he would be talking to the pier worker's family and colleagues to pass on the condolences of the town.

The Liberal Democrat said: "This is desperately sad news and I know I speak for the whole town when I say the thoughts of everyone from Eastbourne and beyond are with his family and friends. Words are often inadequate at being able to capture such awful events.''

He added: "I am aware that Mr Penrice had worked on our pier for around seven years as part of the constant remedial work that the pier owners, Cuerden Leisure, carry out on all the piers they own across the UK. This means he knew Eastbourne well.

"I am sure the many friends he had locally are utterly distraught over the appalling accident. I will be meeting his work colleagues as soon as humanly possible to express the town's sorrow at the death of their friend.''