Gatwick: Plans For Second Runway
25 March 2014, 06:00 | Updated: 25 March 2014, 09:25
The first aerial view of what a new runway could look like has been released.
The airport claims building the next runway at Gatwick would provide the UK with more flights and more connections than building it at Heathrow, at a fraction of the environmental cost.
Gatwick says it commits to start building the runway before the end of the next parliament, bringing the economic advantages of a new runway quicker than Heathrow.

Sir Terry Farrell - the UK's leading architect planner states an expanded Gatwick - would have an Olympic scale effect across South London and the wider metropolitan region

As Gatwick unveils a campaign called Gatwick Obviously - to step up its case for expansion, emerging findings from new research that will be submitted to the Airports Commission in May show that with a second runway at Gatwick there would be more connections to more destinations than with a third runway at Heathrow.
First Aerial View Of What Second Runway Could Look like.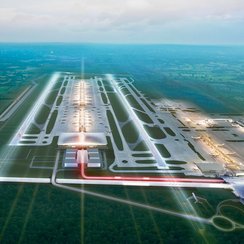 We're told work led by Sir Terry Farrell also shows how expansion at Gatwick would provide better balanced growth for London, the region and the UK. With the majority of traffic shared between London's two major airports, the economic benefits would be more evenly distributed across London and the South East and have significant regenerative benefits in particular for South London, including Croydon and down to Brighton and the South Coast.

An expanded Gatwick would help the UK connect to 27 more destinations than a third runway at Heathrow (442 vs 415 destinations served from London). The same research also shows that a second runway, as part of the network of airports surrounding London, would cater for 11 million more passengers each year by 2050 than a three-runway Heathrow.
Gatwick today also committed to bringing the economic benefits of an additional runway as fast as possible to the UK. Subject to Government approval and assuming quick decision making, Gatwick believes it can start construction of a new runway before the end of the next parliament in 2020, with the first flights taking off by the end of the following one in 2025.
The new information was presented today by Stewart Wingate, London Gatwick CEO, and Sir Terry Farrell, the UK's leading architect planner, at an event at the Shard in Central London for political and business leaders.

Stewart Wingate said: "The next runway needs to bring the greatest economic return for the UK at the lowest environmental cost. That makes Gatwick the obvious answer as we will be able to connect to more destinations in the future because we are the only airport to cater for all airline models. It is the best solution that embraces long term aviation trends. It can also be
delivered in less time with less cost and less noise. Most importantly, passengers will benefit from more choice and better value for money. If chosen and with swift decision making we are committing today to start work on site in the next Parliament."

Sir Terry Farrell said: "I have no doubt that with a second runway, Gatwick will deliver more balanced, and more widely spread, economic growth for London and the South East. Expansion at Gatwick could do for South London and the wider region what the Olympics did for East London and give a huge boost in terms of jobs, housing and regeneration."

A consultation into proposals for a second runway at Gatwick, starts this week with letters, being sent to homes, and businesses, across Sussex, Surrey and Kent.

A final decision is expected in 2015.