Hastings: First Glimpse Of Pier
13 December 2013, 23:41 | Updated: 13 December 2013, 23:42
The first close-up glimpse has been given of a Victorian pier almost destroyed by fire three years ago - as work to restore it is poised to start in earnest.
All Pictures Chris Ison/PA Wire/Press Association Images


A column supporting Hastings Pier in East Sussex has been replaced, marking the first stage of a restoration project costing more than £13 million.

In January, the real work starts on reviving the structure - once proclaimed "the peerless pier'' - and it is hoped it will be finished by early summer 2015.

Officials from the Hastings Pier Charity, which is overseeing the rebuild, led cameras on a tour of the whole pier for the first time in more than three years.



Amid the burnt decking and twisted pieces of steelwork, project manager David Spooner said: "We have had ownership of the pier for three months or so.

"We have been doing all sorts of preliminary works - measurement work, clearing up, cleaning up - and getting ourselves ready for a major start on January 6. That's when the real work starts, when our steelworks contractor moves on.

"We will take up the decking and work from the road, replacing steelwork that has rusted away and build ourselves a major access so that we can get out to the end of the pier and demolish the old ballroom.

"That will take us about six months and then we will come back and re-do all the decking, refurbish the pavilion, build a new visitors' centre, and 15 or 16 months later we will finish and there will be a lovely new pier.''



The Grade II-listed pier has stood as a derelict eyesore since it was almost destroyed in a fire in October 2010 following years of neglect.

Nothing was done by its then Panama-registered owner Ravenclaw to restore the structure, which first opened back in 1872.

The lack of effort led Hastings Borough Council to seek a compulsory purchase order so control of the pier could be handed to a specially set up trust.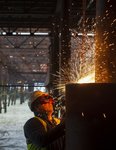 Now it has been handed over to the Hastings Pier Charity, work can start. Its chief executive Simon Opie said: "This first phase is to make sure it's structurally sound and the long-term strategy is to have a wide variety of events on here.''

As part of the project, shares have been offered in the pier. Investors will become shareholder owners of the structure under a community ownership scheme described as a first for a pier.

Mr Opie announced that the period of the community share offer has been extended to April 5.

He said: "The response so far has been quite staggering.

"We have raised over £180,000 so far. We have roughly 750 investors who have signed up and our goal is to reach a minimum of £200,000 with a target of £500,000.

"It's clear that we are well on our way to reaching our minimum but we hope to get to the maximum.''

More than £13 million has been secured mainly through the Heritage Lottery Fund for renovations.

Up to 95% of the pier, which had been closed since 2006, was damaged in the blaze in the early hours of October 5 2010.

Two men, then aged 18 and 19, were arrested shortly afterwards but the Crown Prosecution Service later said there was not enough evidence to bring charges.

Designed by Eugenius Birch, the pier was originally 910ft long. In the 20th century it hosted a mix of dancing, slot machines, rifle ranges, bowling alleys, bingo, funfair rides - and all-night raves.

It also gained a reputation for staging big-name concerts, with performances from the Rolling Stones, The Who, Jimi Hendrix, Pink Floyd, Bob Marley and the Wailers, Tom Jones and Cilla Black.