Brighton Half Marathon 2014 Information
In it's 24th year, the Brighton Half Marathon 2014 takes place on Sunday 16th February 2014.
Voted most improved race at the 2013 Runners World PB Awards, the race is now one of the most popular in the national calendar.
The flat fast route, mostly along the seafront and on fully closed roads, takes in many of Brighton's iconic sights including Brighton Pier, the Royal Pavilion, views of the bracing cliff tops, Brighton's regal architecture and colourful beach huts, Hove Lagoon, the West Pier, the Peace Statue and the final dash past cheering crowds to the finish on Madeira Drive.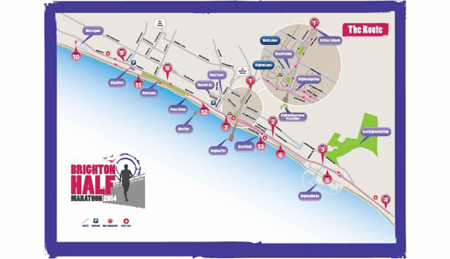 To download a copy of the route map click here.
As one of the longest established and most popular seafront races in the UK the timing of the Brighton Half Marathon means it is also perfectly suited as a warm-up race for all the major spring marathons, plus it is the first major city half marathon of the new year and the crowd support is fantastic.
The main race starts at 9am, with both the start and finish line on Madeira Drive on Brighton seafront. The race village and the charity village are also located on Madeira Drive.
The 1 mile Youth Races take place again too, aimed at the following age categories: 7-10, 11-12, 13-14 and 15-17 years old.
The Brighton Half Marathon is organised by and the main fundraiser for Brighton based charity The Sussex Beacon, one of only two care centres in the UK providing innovative services to meet the changing needs of people living with HIV.
Heart is proud to be one of the partners of the Brighton Half Marathon and again in 2014 will be down there on race day to cheer on all the runners, including of course our own Team Heart running for Have a Heart.
To find out more about the Brighton Half Marathon go to their website by clicking here, and follow them on Facebook and Twitter for the latest updates.