Awkward Moment For Tom & Jack.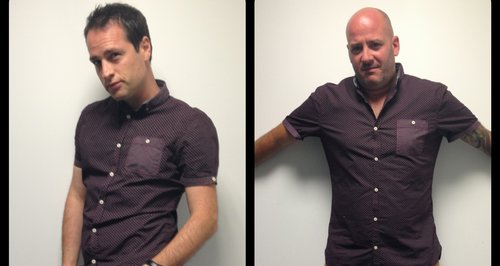 Awkward start to this Thursday morning!
It usually only happens to the ladies but Tom and Jack walked through the Heart doors this morning in the same shirt! AWKWARD!! Only one way to settle it....so we popped a picture up on Facebook of them both in their shirts to let Sussex and Surrey decide who should return their shirt to the shop.
Dee Vickers said "Jack because he has the extra button undone".
Teresa Owen said "Tom, No contest"
Gaynor Chapman said "Jack because he's showing a bit of leg"
In the end Jack won so Tom has to take his back to the shop (or at least never wear it again at work).
Also, Nicola has had a great morning! New photos of Mr David Beckham have been released for his new H&M underwear range.....yes, pictures in his PANTS! Cue Nicola's over dramatic air punch!
See all the pictures by clicking HERE. Trust us, you want to have a look. Nicola's favourite - Number 12.
TOMORROW ON HEART BREAKFAST

Tomorrow on Heart breakfast, it's the last chance this week to get your hands on a pair of Jessie J tickets. If you want to see her at the Brighton Centre in November make sure you tune in from 7.