Kaz's Final Show On Heart Breakfast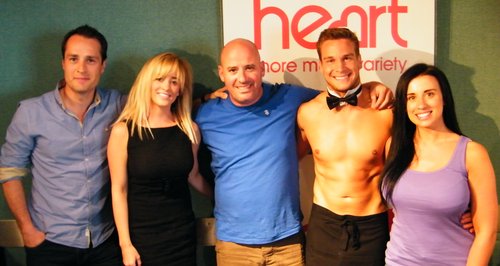 It was a very sad day on Heart Breakfast today as it was Kaz's final show! She's heading back to Newmarket to be with her boyfriend and family.
We wanted to celebrate all the time that Kaz has been on the show, so we gave her a good old Heart Breakfast send off…
There are 2 things that Kaz loves more than anything else; the 1st is a rugged, muscular man (see her boyfriend Mitch for proof), so we got Chaz from Butlers In The Buff in to wait on her every need. We think she may have enjoyed this treat a bit too much!
And after all that excitement we treated he to her second favourite thing, indulging in some pampering. The lovely girls at The Lanes Health & Beauty came in and gave her a lovely manicure and pedicure.
Tom & Jack didn't know how they could get across how much they would miss Kaz in words, so they decided to write her a song to the theme of The Spice Girls – Goodbye. Check it out below…
NEXT WEEK ON HEART BREAKFAST
So with Kaz off, Lynsey will be rejoining the team until her full time replacement starts. We'll still have The Early Morning Quickie, The Big Town Showdown and lots of laughs and giggles to get you up in the morning. See you next week from 6am.