Nicola's 10,000th Tweet
Happy Wednesday! Middle of the week, nearly bank holiday weekend, HURRAY!
Big happy birthday to Jack. Doesn't he look good for 21?!
He didn't bring cake though. Tom thought he should've brought cake to share with everyone at the office. Don't be silly Tom! Why would you bring in your own cake on your birthday? That's like giving everyone baby grows when you have a baby.
Nicola made a cake though.....and Tom attempted a Bake Off masterpiece.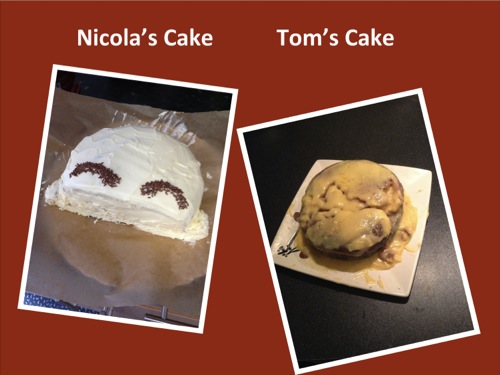 Not only is it a big week for Nicola as it's her first week on the show but today she hit a landmark. Today, Nicola sent her 10,000th tweet. But it wasn't exactly what she planned. She wanted to write something profound and memorable, Jack wasn't having any of it. He wanted to write it for her......cue "CHUBBY BUNNIES". Jack Vs Nicola. The winner would have the pleasure for tweeting from the losers account. Here's what happened...
Nicola & Jack Play Chubby Bunnies
You can read the tweet via @SussexandSurrey.
ON TOMORROW'S SHOW

Make sure you tune in tomorrow from 7 for your chance to win tickets to see Jessie J live at the Brighton Centre.