What's In Nicola's Handbag
Its Friiiiidaaaaaaaay!!
Whats a crazy morning. Tom and Jack kicked off have a rummage through Nicola's bag. All girls have such massive bags with the most ridiculous things in it but Nicola's bag was just insane. Things like keys, chewing gum, a dog, a small clown and much much more... Nic needs a clear out really.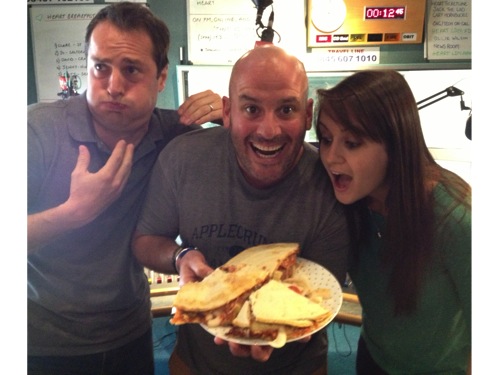 So after Tom and Nicola surprised Jack yesterday with his trip to the golf course to attempt a hole in one, Jack wanted to say thanks. He's so thoughtful. He made them breakfast, but not just any breakfast, A PIZZA MEGA BURGER!! It's 4 quarter pounders, onions, cheese, tomatoes and it's all sandwiched between 2 meat feat pizzas.
Tom wasn't too keen but Nicola loved it.
Watch the clip below to see how Jack got on at Brighton and Hove golf club yesterday.
Have a fab weekend! Tune in from Monday, Tom, Nicola and Jack have some interesting popstar insect puns......