Judge Judy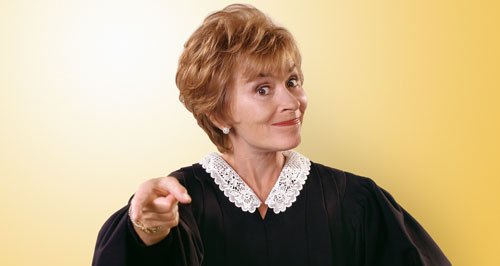 Season 10 new episodes, weeknights 1800 & 1830 double bill from April 22nd
With her outspoken style, hard-hitting decisiveness and engaging wit, Judge Judith Sheindlin single-handedly reinvented the courtroom genre and in the process has become a pop culture icon.
A former New York family court judge known for her ability to cut through a dispute and get to the core of the emotional issue at hand, Judge Judy acts as a true moral compass for people seeking guidance, resolution and common sense in their lives. Judge Judy's goal is to make a lasting impression that will discourage repeat offenders and help heal families and victims of injustice.

There are many imitators, but only one JUDGE JUDY!

Season 10 sees Judy preside over a case of twenty six year old restaurant manager John Hackett who is suing 24 year old sales rep Garret Shell for beating him with a baseball bat. John says at the time of the incident, Garret was on parole for assaulting a police officer; she then conducts the case of twenty four year old hostess Veronica Redden who is suing her mother in law Donna Redden for rent and damages due to mental distress (Veronica says Donna came to live with her while her husband was deployed in Iraq) and the case of Alice Moore, who is suing her niece, office manager Kimberly Kaylah for having her falsely arrested for an assault. Kimberly is countersuing claiming Alice broke her arm.
Back to main page