Healthy Options At High Street Restaurants To Keep Your Diet On Track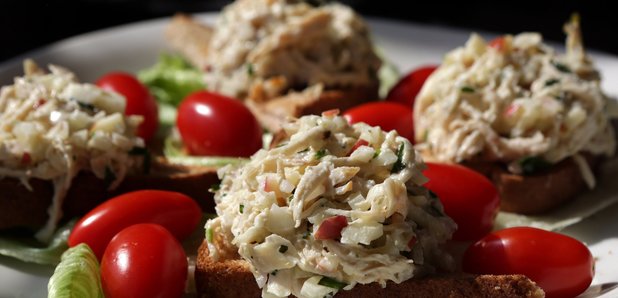 Think banishing those bingo wings means turning down dinner invitations all year? It doesn't have to because we've found a list of 'skinny' options in your favourite restaurants that will tick ALL of your taste boxes and keep calories down. Result!
It's that time of the year again when we all promise to dust off those sports bras and pound the pavements, but that doesn't mean we don't want to enjoy ourselves too!
Going out for dinner with friends isn't something we're willing to sacrifice (Victoria's Secret body be damned), which is why we're chuffed these High Street favourites offer healthy, lighter meal options too.
With dishes under 600, 300 and, in some cases, 100 calories, you'll be laughing all the way to the scales. Just avoid the puddings and the red wine…there's no magic wand to put those in the 'good for you' box.
Bella Italia
Nothing beats a dash to Bella Italia after work, especially considering its wealth of lighter options for determined dieters. You can start with a plate of bruschetta or Mozzarella Pomodoro with cherry tomatoes and basil for less than 300 cals, followed by a Pizza Vita or a Tagliatelle Pomodoro for under 600 cals each. That means you can have a starter and a main meal for under 1,000 calories, which fits well into a healthy daily calorie intake. Result!
Pizza Express
If you're heading here for a delicious dinner, opt for the Leggera range. At under 500 calories a piece you can enjoy a classic pizza like the American Hot, Padana or Sloppy Giuseppe without any of the guilt because the thin and crispy base is filled with salad. Talk about the best of both worlds! Just remember to skip the wine.
Wagamama
For one of the most failsafe options out there, try persuading your dinner pals to go to Wagamama. The Asian restaurant boasts hundreds of low calorie, low-fat options that are packed full of flavour. We recommend the chicken ramen at 510 cals.
Nando's
If you don't fancy the chicken salad, we suggest you indulge in a grilled chicken pitta. At a tiny 364 calories you can afford to add a few tasty sides to your order too. Corn on the cob comes in at just over 100 cals and the tasty mixed leaf side salad is only a minuscule 10! That's less than 500 for a whole dinner.
Zizzi
Pasta isn't always a no-no on a diet. Zizzi's scrumptious goats cheese and spinach ravioli is tomato based and comes in at under 600 calories a portion. Boasting fewer than 600 cals too is their king prawn linguine, an array of seafood and chicken dishes, salads, their skinny pizzas and this incredible chicken tower, so why not take you and your slim waist out for a meal?
Jamie's Italian
You may not think it's possible to chose a healthy option at Jamie's unless you settle for a salad but we've found a few low calorie options that aren't solely made up of leaves! Try the Lamb Chops Scottaditto coming in at 621 calories, or the Chicken Cacciatore at 378 cals. With a side of Rainbow Slaw at 113 cals you certainly won't feel hard done by.
Yo Sushi!
This Japanese restaurant is about to become your best friend. Not only can you pick and choose from a delicious menu of Asian flavours but with many fish plates coming in at the 70 calorie mark, six rice rolls at just over 100 cals for the set, and the miso soup at just 60 cals, you can create your very own calorie controlled meal.


Prezzo
Sometimes pasta is the only solution to a bad day at work, but there's nothing worse for bloating than a massive bowl of carbs. Prezzo has found a solution to this problem with its 'Light' menu, which offers a smaller version of any pasta dish with a hefty side salad. There's also a lovely sea bass dish and a chargrilled chicken and salad option to satisfy your cravings for a fraction of the calories.
Byron
So you've found yourself in Byron - seemingly the enemy of all things low calorie, right? WRONG. This burger joint has a Bun-Free Skinny option for dieters, which allows you to pick any burger (we'll let you decide how many liberties to take with the toppings) and combine it with a side salad. A simple side - like a wedge of lettuce with a splash of blue cheese dressing - will add the calories, but it's certainly better than deep fried chips and coleslaw!
Wahaca
This Mexican street food restaurant is perfect for anyone on a mission to reduce their portion sizes without sacrificing flavour. Start with some fresh tomato salsa heaped onto a couple of chunky tortilla chips, followed by some of the chain's signature tapas-style smaller plates. Our favourites are the lighter Taquitos with sweet potato and marinated chicken. Or, if you really want to be good, try one of their giant salad bowls with pumpkin seeds, avocado, beans, spelt and cos lettuce. Delicious.
Who said you can't be on a diet and stuff your face?! Job done.