Sean Connery Accents
It's Thursday! Nearly the weekend! Boomchikkiboom
What a tense show this morning. As you may well know, Tom, Nicola and Jack are giving away a wedding on Friday! We've had 5 couples battling it out everyday, with a couple leaving the competition after every challenge. This morning we had 3 of our remaining couples come into the studio. Their challenge was to get as many twitter followers as possible in 24 hours.
They had been tweeting like crazy and all 3 couples did extremely well.......unfortunately the couple with the least amount of follows by 8am this morning would have to leave the competition. This morning the results were revealed, and the couple that had to leave was Chris and Kelly.
So, we're now down to 2!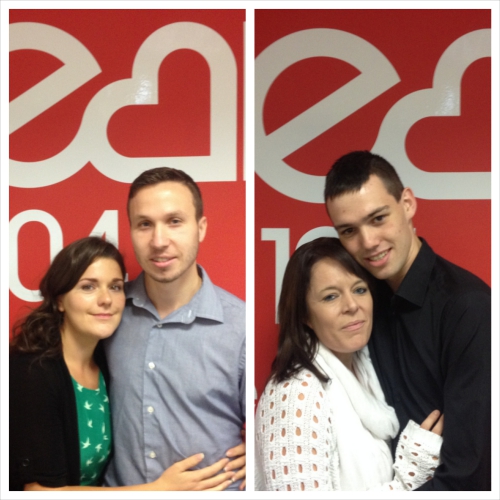 Claire and Vince & Hayley and Justin
Tom, Nic and Jack revealed the final challenge......By tomorrow morning at 8am, each couple must provide.....A CELEBRITY. Either on the phone or in the studio.
Want to know how they get on? Make sure you tune in to Heart Breakfast tomorrow from 8am! The winner will be decided by you! You will be voting who has brought the best celebrity! How exciting!!!

Also this morning, Jack came up with a game. 'Guess the accent'.
He played several clips of superb Scottish Bond star Sean Connery, Tom, Nic and our listeners had to guess what accent Sean was doing. Have a little listen here...
ON TOMORROW'S SHOW
Make sure you listen to Heart Breakfast tomorrow as at 720 they got your chance to win £750 and then from 8 find out the guys will be joined by 2 mystery celebrities and one couple will win the wedding of their dreams!
Heart Breakfast Pages
Check out everything that is happening on Heart Breakfast by clicking below.