Meghan Markle arrives in FIji wearing thoughtful gifts from the Queen and Prince Phillip
23 October 2018, 07:56 | Updated: 23 October 2018, 10:15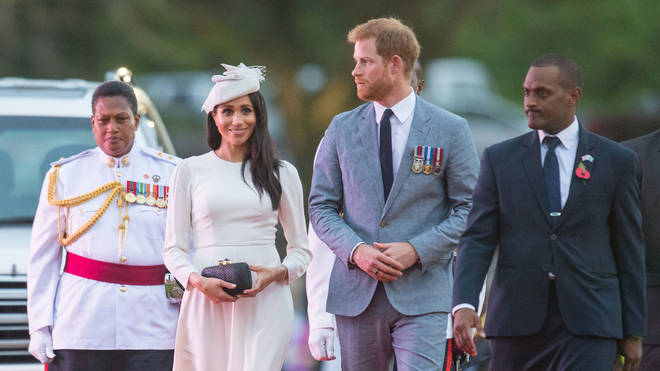 The Duke and Duchess of Sussex's Australian tour has taken them to the Pacific island of Fiji as Meghan returns to royal duties.
Prince Harry and Meghan Markle's Australian tour has now taken them to the paradise island of Fiji off the coast of Oz.
The pair were seen arriving in the Pacific nation as Meghan returned back to full royal duties after taking it easy due to her pregnancy.
Read more: Prince Charles thinks Meghan Markle is the 'best thing' to have happened to Prince Harry
But as she stepped off the plane she was spotted sporting gifts from the Queen and Prince Phillip.
She stunned in a white dress by Australian designer, Zimmerman, which she paired with some earrings and a bracelet gifted to her by her grandmother and grandfather-in-law.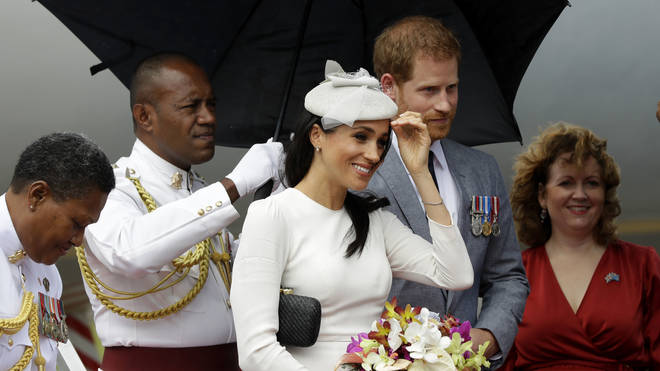 As they landed on the tar mac, Meghan had to hold on to her hat as strong winds threatened to snatch it along with the red carpet rolled out for them.
Harry and Meghan were greeted by the Prime Minister of Fiji, Hon Frank Bainamara, and his wife Maria and many locals came out to greet them as they travelled through the island.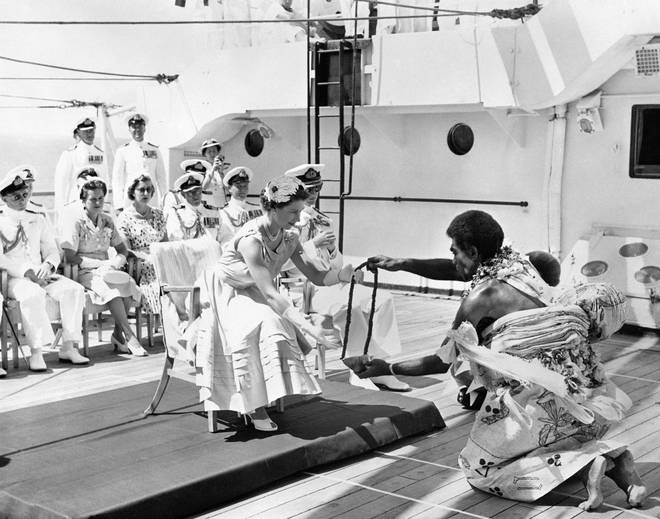 They are visiting on behalf of the Queen who first visited Fiji in 1953 with her husband Prince Philip, Duke of Edinburgh.
They will spend a couple of days in the country before roundng off their time in the South Pacific in Tonga later in the week.