Five of the best kids' chocolate-free advent calendars
16 November 2018, 16:12 | Updated: 21 November 2018, 10:36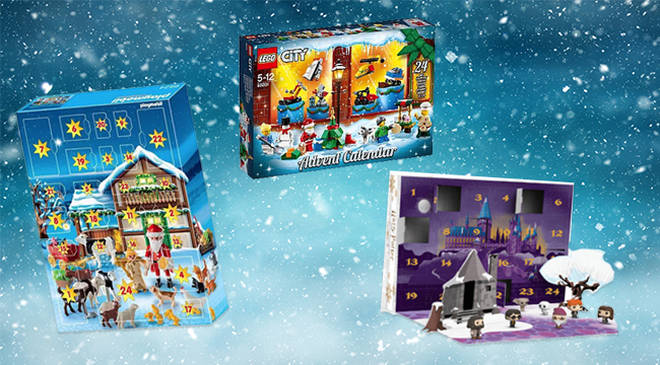 Chocolate advent calendars are a Christmas tradition, but if you don't want to encourage your child's sweet tooth there are plenty of other options for a fun festive countdown.
Chocolate advent calendars are everywhere come Christmas!
You can be sure that any supermarket you pop into will have at least a handful of chocolate offerings for the Christmas period but you could be hard pushed to find ones that are sugar free.
Read more: These are the best budget beauty advent calendars for Christmas 2018
Here are some Christmas calendars perfect for kids without a hint of chocolate in sight...
Smiggle advent calendar

Smiggle's advent calendar is bursting with stationary.

Picture: Smiggle

Kooky stationary store Smiggle has joined the advent calendar competition this year with their offering.

Hidden behind 24 doors are different colourful stationary items that the kids will love including pens, pencils and rubbers.

It's on sale in stores for £25 - buy one here.

Lego City advent calendar

Lego advent calendar.

Picture: Lego

Kids love lego as much as they love chocolate and this Lego City advent calendar is surprisingly affordable.

Lego sets often have big price tags but this calendar - with 24 doors and full of lego - is only £18 and available at most major retailers.

Buy it online at ASDA here.

Disney Storybook advent calendar

Disney's Storybook advent calendar contains all your kids' favourite characters.

Picture: Disney

What could be better than the gift of reading? Disney's Storybook advent calendar contains 24 book featuring classic Disney characters for your child to read in the lead up to Christmas.

Featuring Bambi, Pinnochio, Buzz and Woody and Mulan this £19.99 chocolate free countdown is available at all major retailers.

Funko Pop Harry Potter advent calendar

Funko Pop have recreated Hogwarts with this fun calendar.

Picture: Funko Pop

Funko Pop!, the company behind a range of miniature bobble heads depicting pop culture figures from superheroes to rockstars, have released their own wizarding advent offering.

The calendar - priced at £49.99 - has mini vinyl Harry Potter characters hiding behind its 24 doors to help you build up a wintery Hogwarts scene.

It is available to buy online here.

Playmobil advent calendar

Playmobil's 2018 calendar is set farmyard themed.

Picture: Playmobil

If you're little one is too young for Lego then this Playmobil advent calendar is a much more toddler-friendly version.

This year's festive calendar is farmyard themed and includes 20 animals hiding behind the doors plus Father Christmas.

It is priced at £29.99 and you can buy it online here.