Princess Eugenie proudly shows off scars from life-changing spinal surgery on her wedding day
12 October 2018, 11:44 | Updated: 22 October 2018, 16:47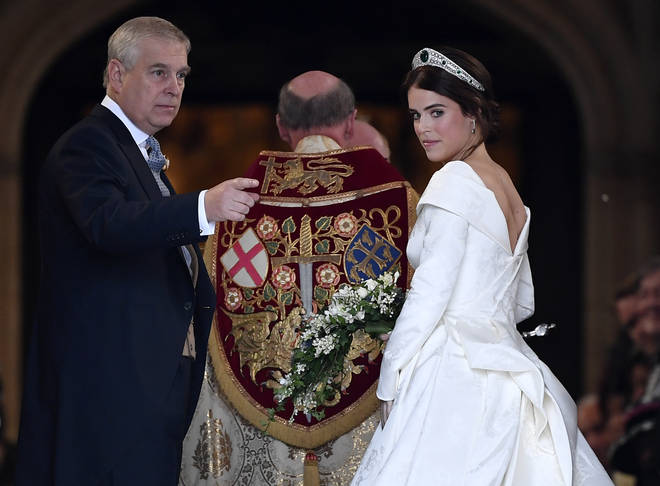 Princess Eugenie will be paying tribute to a life changing operation from her childhood which has left her with metal rods in her spine.
Princess Eugenie will be proudly displaying scars from surgery she had as a child to correct scoliosis.
The princess, who is daughter of Prince Andrew and Sarah Ferguson, was born with the condition that causes a curvature of the spine and underwent corrective surgery age twelve that has left her with metal rods in her back.
Her wedding dress has been designed to display the scars left from the surgery and she intends to wear them proudly.
She recently shared X-rays that show the metal pins in her spine in honour of International Scoliosis Awareness Day.
Speaking to This Morning presenters Eamon Holmes and Ruth Langsford ahead of the wedding she said: "I think you can change the way beauty is, and you can show people your scars and I think it's really special to stand up for that.
"The Royal National Orthopaedic Hospital, the RNOH, is a huge charity — I'm patron of their appeal and I had an operation when I was 12 on my back, and you'll see.
"But it's a lovely way to honour the people who looked after me, and a way of standing up for young people who also go through this."
Read more: Princess Eugenie wears priceless emerald tiara to wedding to Jack Brooksbank
On her guest list for the big day is her NHS surgeon Jan Lehovsky and some other members of his team.
Duchess of York, Sarah Ferguson told the Evening Standard the invite was "in honour of the fact that she is walking up that aisle with a straight back because of them". 
She has also invited Britain's Got Talent star Julia Carlile from Liverpool who danced with the group MerseyGirls on the show. She suffers from scoliosis and has had similar corrective surgery to Princess Eugenie.