Heart's Make Me A Millionaire 2023: Watch the moment we made Magaret Coetzer £1,000,000 richer!
28 April 2023, 09:28 | Updated: 28 April 2023, 14:35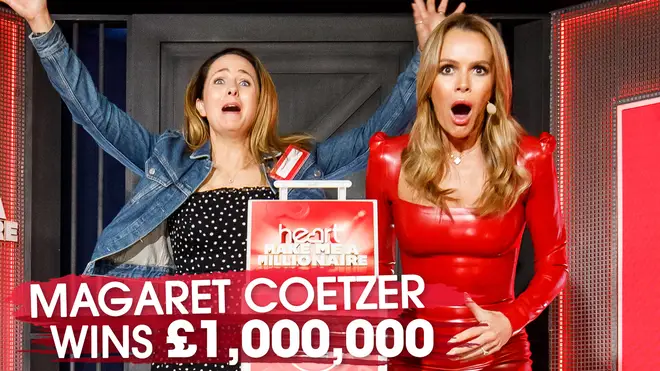 Magaret Coetzer's life changed forever when she became the winner of Heart's Make Me A Millionaire 2023.
We've done it again! Magaret Coetzer has become our fourth millionaire, walking away from Heart HQ in London on Friday £1,000,000 richer – on the same day she celebrates her 40th birthday!
Magaret joined Jamie Theakston and Amanda Holden at Heart alongside nine other Make Me A Millionaire grand finalists, but had no idea at the time that her life was going to change forever.
Our new millionaire was the seventh finalist to make her way to the Make Me A Millionaire vault on Friday morning, and chose box number two.
Watch the incredible moment Magaret Coetzer won £1,000,000 here:
Margaret Coetzer wins Heart's Make Me A Millionaire 2023
Magaret Coetzer, from Bracknell in Berkshire, turned down £2,000 on Monday 27th February in order to enter the Million Pound Final.
She's the Head of Quality for a software company that specialises in aircraft refuelling, it's hard work but she loves that there's always a new challenge.
Magaret's husband AJ joined her at Heart HQ for the Make Me A Millionaire Grand Final, and he could not believe what was happening when he watched his wife open that box and reveal the magic words.
The couple have a daughter, nine-year-old Alex, and a fourth family member – their little Jackapoo called Pepper!
Prior to winning Hearts Make Me A Millionaire, Magaret told us if she won she would spend the money on herself, her family and charities close to her heart.
Her daughter has always dreamed of having a horse, so that's high up on the list! Magaret and AJ also want to buy another house as well as look into donating to animal-focused charities.
Most of Magaret's family are in South Africa, and so the dream was to buy tickets for herself, AJ and Alex to visit them. And now she's £1,000,000 richer that dream can be a reality!
One last chance to be a cash winner!
We left one box behind from the final and we stuffed it full of a mystery cash amount. For your chance to win, and to find out more, enter here. Ts &Cs apply.