Princess Eugenie wedding: Royal wedding dress code revealed, from hats to the shoes banned by the Queen
12 October 2018, 10:11 | Updated: 19 October 2018, 10:56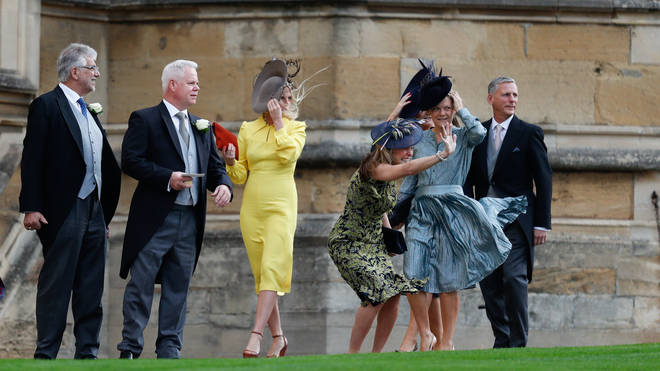 A Royal wedding requires a special outfit - here's the dos and don'ts of attending a very posh wedding.
Guests at today's Royal Wedding will be expected to follow a strict set of rules regarding their outfits and decorum.
As seen at Prince Harry and Meghan Markle's wedding in May, women must wear a hat while inside the church. Traditionally, this was as a symbol of wealth - the bigger the hat, the bigger the bank account.
As well as the correct headwear, women must also refrain from wearing wedged heels - apparently The Queen hates them and only stilettoes will do.
At Prince Harry and Meghan Markle's wedding, Chloe Madeley arrived without a hat and with her shoulders exposed - and caused national outrage.
For Royal brides - and women - nails have to kept nude, with the Queen's favourite 'ballet shoes' shade now popular with civilians, too.
And, in keeping with the 'nude' theme, it's flesh coloured tights only.
Royal grooms are expected to wear their military uniforms, with both Prince Harry and Prince William wearing theirs when they wed - despite no longer being in active service.
This is a requirement and was started by Queen Victoria's husband - Prince Albert. Prince Phillip, Prince Charles and Prince Andrew all wore their military attire for their wedding days.
At present it's not known who has designed Princess Eugenie's dress, but she is believed to have selected a British designer for her gown.
One thing we can be sure of is that her bouquet must include myrtle. Considered the "herb of love", Queen Victoria introduced this tradition and Queen Elizabeth, Princess Diana, Kate Middleton and Meghan have all followed suit.