Got hayfever sniffles? Stay AWAY from the Doctors...
10 June 2019, 12:15 | Updated: 10 June 2019, 12:34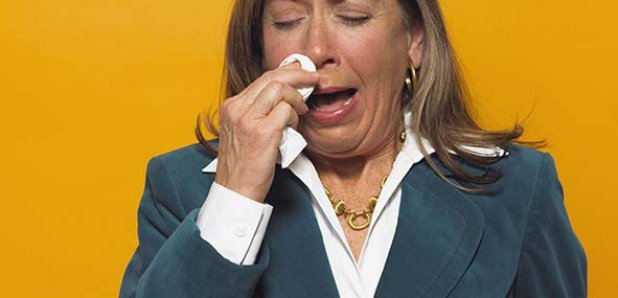 Doctors in Cambridgeshire and Peterborough are being asked - do you 'nose' where to go for hay fever treatment?
Itchy eyes, sneezing, headache, runny nose? Yes, all the signs that hay fever season is here.

After spending over £300,000 on hay fever medications on prescription last year, the local NHS is urging patients to visit their pharmacy for advice and treatment instead of their GP.

One in four people are affected by hay fever in the UK and unfortunately there is no cure.
However, the good news is that most people are able to ease symptoms with treatment that is available at low prices from their local pharmacy– no GP appointment or prescription required.

Dr Mark Sanderson, CCG Medical Director said:
"Visiting a local pharmacy is your best option for hay fever treatment such as tablets, eye drops or nasal sprays. Start taking them now and continue throughout the summer as taking antihistamines regularly is much more effective than taking them only when your symptoms are bad."

Last year the local NHS spent £385,529 on prescribing hay fever treatment. To help lower these costs GPs across Cambridgeshire and Peterborough no longer routinely offer prescriptions for hay fever medications.

Dr Mark Sanderson added:
"We all have a responsibility to look after our own health and look after our NHS. By going to the pharmacy you'll be saving yourself time and money, freeing up GP appointments for people with more urgent needs as well as helping the NHS save money on unnecessary prescription costs."

Buying a packet of 30 tablets can cost as little as £2, especially if buying non-branded products. If a patient goes to their GP to get a prescription, then it costs the NHS considerably more.

Top tips to help ease hay fever symptoms:

Keep house and car windows closed, especially when the pollen count is high (early morning between 7am to 9am and evenings between 5pm and 7pm)
Avoid large grassy areas
Wear wrap-around sunglasses
Use petroleum jelly inside your nose to block inhalation of pollen
Don't dry washing outside to avoid pollen sticking to your clothes
Shower and change your clothes after you've been outside to wash pollen off
Vacuum regularly and dust with a damp cloth
For more information about treating allergies or to find your nearest pharmacy and opening times visit www.nhs.uk.

Locally, the NHS spent millions last year on prescribing medicines such as hay fever treatment that can easily be bought at local pharmacies or supermarkets for less than it costs the NHS to prescribe. Other medicines included dry skin treatment/sunburn (£1.1m), vitamins (£883,456), dry/sore eyes (£720,037) and travel sickness treatment (£180,813).