Man jailed for multiple sexual assaults
25 June 2019, 15:16 | Updated: 25 June 2019, 15:38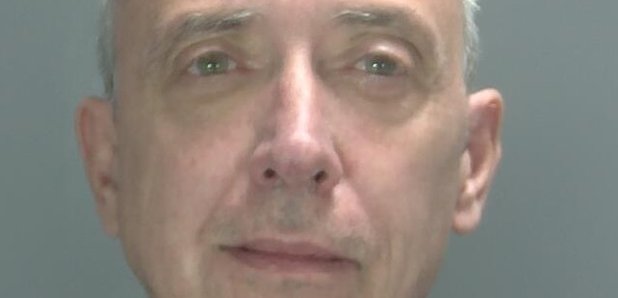 A 57-year-old man has been jailed for more than 20 years after being convicted of a number of offences against children - 10 of which were sexual assaults, including rape.
Julian Myerscough, formerly from Lowestoft, appeared at Ipswich Crown Court today, Tuesday 25 June, where he was given a 26-year sentence, comprising 21 years' imprisonment and an extended licence period of a further five years.
He was found guilty of a total of 11 crimes at Ipswich Crown Court yesterday following a trial which lasted more than two weeks. The offences were committed against three victims between 2001 and 2010 and are as follows:
- Two counts of raping a girl under the age of 13
- Four counts of assaulting a girl under the age of 13 by penetration
- Four counts of indecently assaulting a girl under the age of 14
- One count of assaulting/ill-treating a child to cause unnecessary suffering
Myerscough's ability to commit any further offences was brought to a halt in 2010 when he was convicted of possessing indecent images of children and sentenced to 15 months' imprisonment.
In September 2015 he appeared before Ipswich Crown Court for the second time, accused of 13 counts of possession of indecent images of a child and three counts of breaching a Sexual Offences Prevention Order.
He fled the court on the 30 September during a recess while the jury retired to consider its verdict and was found guilty of all charges in his absence. Almost two years later he was sentenced in his absence to three years and six months' imprisonment.
Myerscough was detained in Dublin two days after absconding from the crown court in 2015 and spent the next two years fighting his extradition back to the UK, before ultimately being released by the High Court in Dublin.
He then spent almost another year at large from British authorities, before being tracked down by officers from Suffolk Police in Romania, where he was arrested by local law enforcement officers in July last year. His extradition was then approved by the Romanian courts and he was brought back to the UK in August, when he was charged with the 11 offences he has been sentenced for today.
The investigation into Myerscough was undertaken by officers from the East Safeguarding Unit in Lowestoft, who gathered the evidence against him and took accounts from the victims of the horrendous attacks they had been subjected to, whilst they were just very young children.
Their statements were harrowing, with one of his victims stating that he abused her on such a regular basis that it was impossible to remember the exact number of times it occurred.
The case against him was progressed during the three years Myerscough spent abroad evading British authorities, to a point that it was possible to charge him as soon as he was returned to the UK in August of last year.
In December last year, officers from Suffolk Police again travelled to Romania and conducted a search of Myerscough's home there, with the support of Romanian Police. As a result of this, further evidence was obtained that was able to be used against him in this latest trial.
His mobile phone records were analysed and a number of coded text messages he had sent were discovered, the content of which made disturbing references to child abuse.
Detective Chief Inspector David Henderson, the Senior Investigating Officer, said: "I am delighted with the sentence handed down today and it reflects the severity of the crimes committed by a man who inflicted the most unimaginable suffering on his victims.
"Julian Myerscough stole away the childhoods of three innocent young girls and seeing the victims stand-up in court today and read out their personal statements directly to him, recounting the sheer terror he caused them, is one of the most powerful and emotive moments I have witnessed as a police officer.
"I hope their bravery - and the successful conviction of their attacker - demonstrates that it is never too late to achieve justice and that Suffolk Police will pursue non-recent allegations of sexual assault with the same level of dedication and determination as those reported at the time they took place.
"This has been a draining and challenging investigation for all of us that have worked on it and I would like to pay tribute to all the staff involved who have worked tirelessly to obtain the evidence, build a case, support the victims and then trace, track and ultimately detain Myerscough. His attempt to evade justice by fleeing to the Republic of Ireland and latterly Romania, proves that investigators in Suffolk will work relentlessly to bring perpetrators of such crimes to justice.
"I am proud of the fact that the police investigation was praised by the court and in particular that Detective Constable Kate Bond has received a commendation from the judge for all her exceptional work.
"Myerscough is a dangerous, evil and vile individual and this trial has highlighted a dark side to a man regarded by many to be a respectable university law lecturer, a man who has demonstrated over a period of several years a powerful sexual interest in very young girls, a man who was an enthusiastic and persistent paedophile and a man who now stands convicted of child sexual abuse and rape and will spend a significant part of the rest of his life in prison."
An NSPCC spokesperson for the East of England said: "Myerscough used fear and control in an attempt to stop his victims reporting his sickening abuse, but it is their astounding bravery that has today helped jail him for his vile crimes.
"Sexual abuse is never the fault of the victim but many children will not always recognise they are being abused and exploited or be too scared to speak out. This sentence shows it is never too late for survivors to report abuse and get support and adults can contact the NSPCC Helpline for advice about non-recent abuse on 0808 800 5000."