Watch Ed Sheeran performing at Heart Live with Ed Sheeran
20 November 2018, 06:20 | Updated: 20 November 2018, 06:54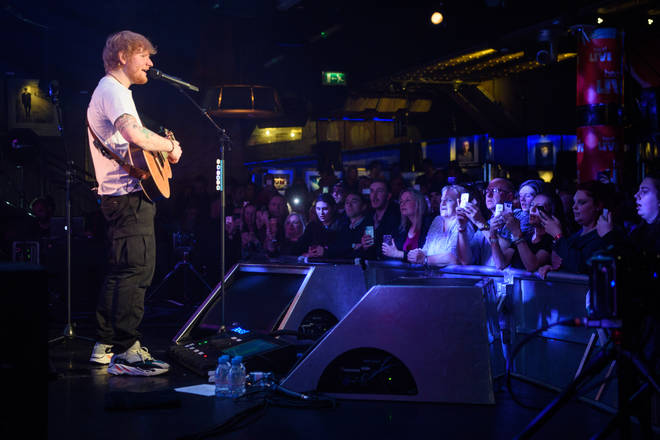 Last night saw Ed Sheeran swap 90,000 seater stadiums for tiny London venue Under The Bridge - if you weren't one of the lucky Heart competition winners, here's what you missed.
There's seeing Ed Sheeran in concert, and then there's seeing him up close and personal, so near to him you can meet his eye, watch him strum each chord on his guitar, and literally breathe the same air as him.
And that was the reality for a few hundred Heart listeners and special guests last night.
Tens of thousands of people entered our competition to win tickets to Heart Live with Ed Sheeran, but only a fraction could be there.
Read more: Hits you never realised were written by Ed Sheeran
Arriving at London's Under The Bridge, the atmosphere was electric, with fans treated to a set from Heart's Annaliese Dayes before the 27-year-old strode out on stage.
Dressed typically casually in a T-shirt and jeans, Ed got stuck in to a 45-minute set, pausing between tracks to thank his team for supporting him during a gruelling year-long tour - and getting back to work to put on this very special Heart performance.
Read more: Watch the moment Ed Sheeran STOPS Heart Live gig to watch couple get engaged
Ed's set list in full:
Castle on the Hill
Don't
A Team
Bloodstream
Happier
Perfect
Photograph
Thinking Out Loud
Shape of you
Ed also took some time to speak to Heart's Sian Welby for a very special interview that will be broadcast on Boxing Day - more details to be announced soon.
The December 26 special will also feature Ed's gig broadcast in FULL - but if you can't wait until then, here's a taster of what's to come... and what you missed last night.
Five incredible photographs from Heart Live with Ed Sheeran

A handful of competition winners were given the chance to watch Ed perform.

Picture: Heart

Ed played for 45 minutes, performing some of his biggest hits.

Picture: Heart

Heart listeners saw him perform Shape of You and Photograph.

Picture: Heart

Just a few hundred people were able to cram in to the tiny venue.

Picture: Heart

Heart listeners were able to get up close and personal with the international icon.

Picture: Heart