Mum receives criticism after 'spoiling kids' with over 250 Christmas presents
18 December 2018, 12:42 | Updated: 18 December 2018, 16:41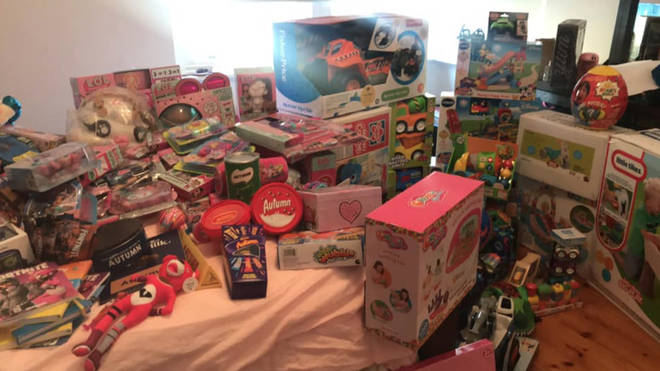 The mum-of-three has been ridiculed online for sharing photos of the hundreds of gifts she's bought for her kids.
Kristy Nowak has divided the opinions of parents after sharing her huge haul of Christmas presents she's bought for her children this year.
The Australian, who has gathered the likes of bikes, scooters, video games and cuddly toys over the past five months, revealed that she's squirrelled the gifts away into 14 cupboards in a bid to stop her youngsters from finding them.
And, whilst some think she's done a fab job at being organised, others are accusing her of spoiling her brood.
Posting the images to her Facebook page, she wrote: "Finally emptied my Christmas cupboards to see what I've collected over the last few months ... did I mention that I LOATHE wrapping presents."
READ MORE: Ultimate Harry Potter gifts for kids this Christmas 2018
Some were quick to compliment her efforts, with one user writing: "You put me to shame lol...such a great effort hun!!" whilst another added: "Wow they will love that!"
However, some were less than impressed with the vast amount of goodies.
One social user commented: "Oh dear ... a bit much. I'd be saving for some birthdays", whilst another typed: "that's ridiculous."
But the mum-of-three refused to let the haters dampen her Christmas spirit, and hit back: "Society will try let you believe there is [something wrong with spoiling your kids] or try guilt trip you for it [sic]."