New train service at Stevenage
22 March 2019, 16:05 | Updated: 22 March 2019, 16:15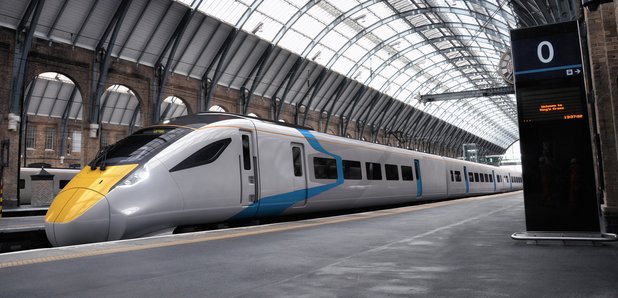 Passengers at Stevenage could benefit from a price-war on the trains as First Group have revealed more details of their cheap-fares rival to LNER.
Set to run on the East Coast mainline from autumn 2021, they'll use brand new 125mph trains to travel between Kings Cross and Edinburgh - with an average fare of £25.

They'll be no first class - but carriages will feature wi-fi and have on-board catering.

READ MORE:-
The operator with an yet un-named service run by First Group say they're planning a low-fare rival service between London and Edinburgh and have now ordered trains to provide the "highest level of comfort and service".

They've agreed a £100m with Hitachi Rail for five new 125mph intercity electric trains.

The four-hour service is expected to begin in autumn 2021 and will compete with LNER, and airlines.

Average fares will be less than £25, according to FirstGroup.

Each train will consist of five carriages - all standard class - with a total of 400 seats.

Their design and branding has not been confirmed but they will include on-board catering and free Wi-Fi.

FirstGroup will operate five services a day in each direction between London King's Cross and Edinburgh, calling at Stevenage, Newcastle and Morpeth.

The first service of the day from London is expected to arrive in Edinburgh by 10am in a bid to attract business passengers who usually fly.

The majority of rail services in Britain are operated by fixed-term franchises awarded by the Department for Transport.

FirstGroup was granted permission by the Office of Rail and Road in April 2016 to run such a service between London and Edinburgh for 10 years.