Harry reunites with his 98-year-old 'favourite Aussie'
16 October 2018, 11:23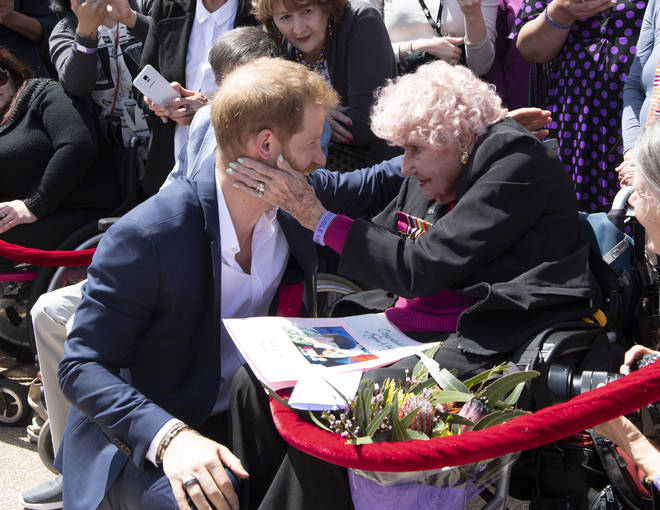 Australian Daphne Dunne then got the chance to meet Meghan Markle who said Harry had told her all about their special bond.
They might have been greeted by showers of rain upon their arrival in Sydney, but Meghan Markle and Prince Harry had a reunion on the cards that would brighten up any cloudy day.
98-year-old Daphne Dunne has been dubbed Harry's "favourite Aussie" having had lengthy conversations with the Prince during his 2015 and 2017 trips to Australia.
After spending 20 minutes greeting locals, 34-year-old Harry spotted his biggest fan and dashed to embrace her.
He told Daphne: "I was looking for you earlier and hoped you'd be here, it's so good to see you again."
While Daphne congratulated Prince Harry on the news that he is expecting his first child, the royal scanned the crowd for his wife.
Calling Meghan Markle over, the former actress broke into a huge grin as she appeared to realise she was being granted a very special audience with Harry's pal.
Meghan told Daphne: "I'm so glad I got to meet you. Harry had told me all about you and your special bond, it's so lovely you came to see us, thank you... Hopefully next time we'll have our little one with us."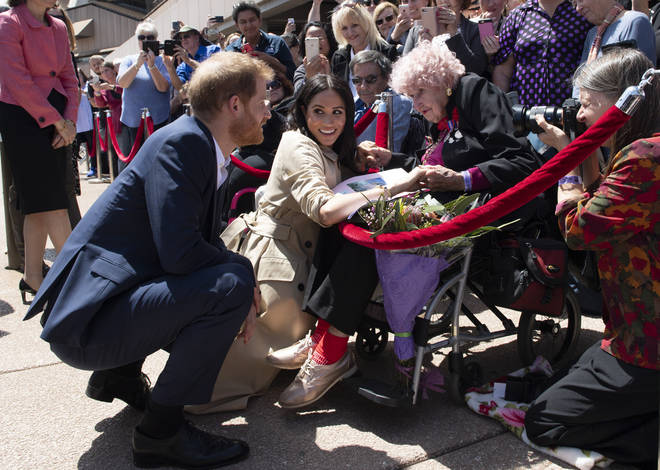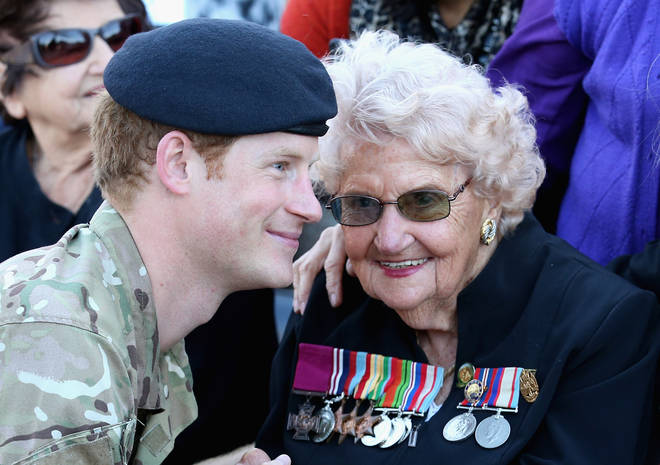 Daphne later revealed all about the encounter to local press, explaining: "It was lovely to meet the Duchess Meghan. Harry is a wonderful man and I'm so happy he had found happiness, they both deserve the absolute world together."
She added: "I congratulated them on their baby and said I wished them all the happiness they deserve."
In one snap from Harry's first meeting with Daphne in 2015, she can be seen adorned with her late husband's war medals.
It's expected that around two thousand people had flocked to the streets of Sydney to catch a glimpse of the Duke and Duchess.