Theresa May dances to 'Dancing Queen' to open her conference speech
3 October 2018, 13:23 | Updated: 3 October 2018, 13:25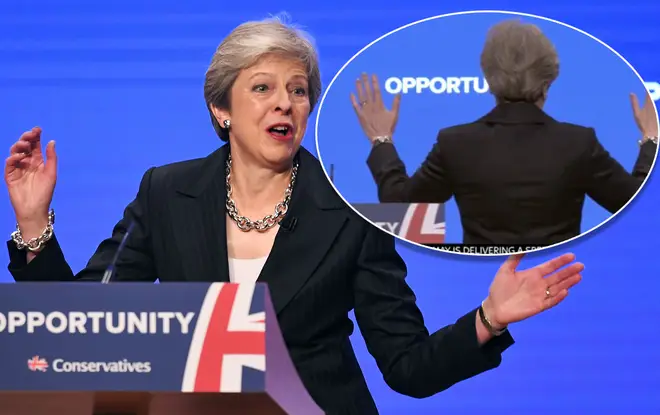 The Prime Minister opted for a more lively entrance as she danced her way onto stage at the Tory Party conference.
Theresa May brought a little bit of Mama Mia to the Conservative party conference on Wednesday morning as she danced to Dancing Queen by Abba ahead of her speech.
The Prime Minister had been preparing to address her party and about her Brexit plans but couldn't resist having a dance to the disco floor-filler while making her way to the stage.
Heading out onto the stage to address the audience, May is seen waving at the audience before confidently striding across the stage.
After making her way to the podium the 62-year-old politician awkwardly bops to the music before breaking out into a little dance much to the delight of the audience, who cheered her on.
Understandably, May's moves divided opinion but the overriding reaction from users on Twitter was one of amusement.
Clips of the her 'dad dancing' have already been the subject of a number of memes, while some users labelled the clip 'cringeworthy'.
Anyone hear that gunshot? Yes that's #ABBA out in a field of wheat, saying "that's enough lads. We can't do this anymore. Mamma Mia the movie was bad enough". #TheresaMay #CPC18

— Jason Leslie (@IamUmpa) October 3, 2018