Heart Xmas is back for 2023: How to listen to non-stop Christmas songs
22 September 2023, 08:41 | Updated: 4 December 2023, 09:24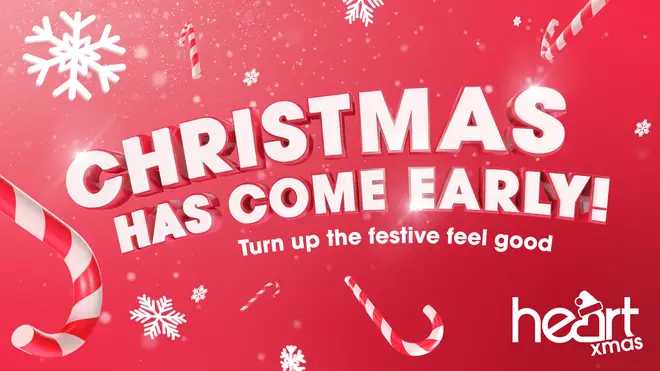 If you wish it could be Christmas every day, then you're in luck... as Heart Xmas is back for 2023!
Now available on Global Player and DAB+, it's Heart Xmas!
This year our much-loved station is switching on earlier than ever before, with just over three months to go until the big day! Heart Xmas promises to bring listeners the ultimate festive soundtrack with all the best hits as the countdown has officially begun.
Prepare for the biggest and best non-stop Christmas hits throughout the day, Monday to Sunday from the biggest artists including Mariah Carey's 'All I Want for Christmas Is You', Wham!'s 'Last Christmas', Michael Bublé's 'It's Beginning to Look a Lot Like Christmas' and Andy Williams' 'It's the Most Wonderful Time of the Year'.
Tell your Alexa to "Launch Heart's Sleeps til Santa" to play our festive countdown song
From classics that get you misty-eyed, to more recent and upbeat Christmas songs, yule be immersed in the best music for this very special season.
Here's all the ways you can listen to Heart Xmas:
Download our app for iOS and Android to listen to Heart Xmas right now.
Listen To Heart Xmas on DAB+
Due to the growing popularity of Heart Xmas every year, this year the seasonal spin off station will be available on digital radio across the UK meaning Christmas fans can tune in from wherever they are in the UK on DAB+ as well as Global Player, bringing even wider coverage!
Scroll through the stations on your DAB+ digital radio until you find Heart Xmas.
Listen To Heart Xmas On Alexa
Just say 'Alexa, Play Heart Xmas' (or "Play Heart Christmas") to listen live.
Listen To Heart Xmas On Google Smart Speakers
Just say 'Hey Google, Play Heart Xmas' ("Play Heart Christmas")
Listen To Heart Xmas On Apple HomePod
With Siri you can say, "Hey Siri, Play Heart Xmas radio"
Listen To Heart Xmas On Sonos Speakers
Using your Sonos app, use the Add Service menu item and select Global Player. The Global Player service allows you to listen to Heart Xmas, as well as Global's other radio stations and expertly curated music playlists and podcasts - all for free! Or if you'd simply like to listen live, search for the station within Sonos Radio.