This week THREE people will win £30k
23 September 2018, 22:56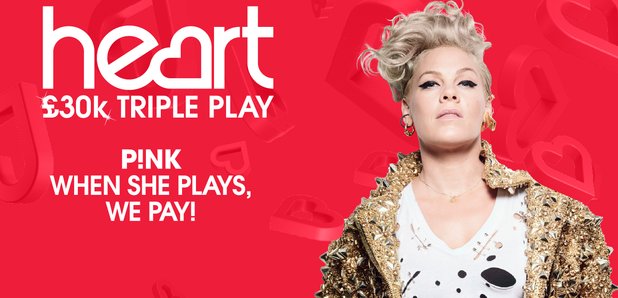 We are giving YOU the chance to be a MASSIVE £30,000 richer!
We are giving THREE MORE people the chance to be a MASSIVE £30,000 richer this week!
Our Feel Good artist is PINK.. and when she plays, we pay.
Here's how to play...
When PINK plays once – YOU can win £300

When

PINK

plays twice in a row – YOU can win £3000

When

PINK

plays three times in a row – YOU can win a life changing £30,000
Make sure you're listening to Heart every weekday between 10am – 4pm
When you hear PINK – text

PLAY

to 82122
Texts cost 1.50 plus your standard network rate. If you text after the end of the song or songs, you won't be entered but you may still be charged. You must be 18 or over to play this Heart network game. Read the rules here
On Friday September 21 we had our fifth £30k winner, Dani Bickton from Halifax, W. Yorks.
She was overcome when she found out she scooped the big prize, and is already looking forward to spoiling her son Chester, 1, as well as putting down a deposit on a home for them.
Dani, who works at her local Tesco, told Heart that she was also planning on splurging on a new wardrobe.
She said: "I've never won anything on the radio before, I can't believe it!"
The game continues - and there is even more cash to give away every day on Heart!