Amber Rudd Criticises Labour Party In Her Constituency
4 March 2019, 08:02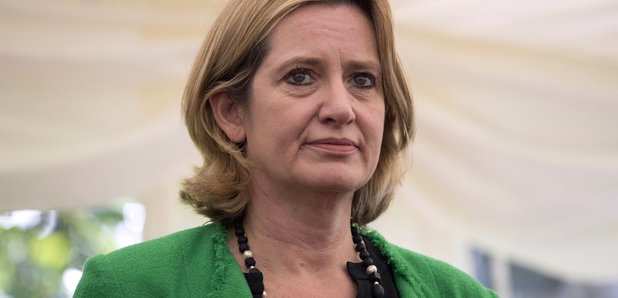 Work and Pensions Secretary Amber Rudd has launched a fierce attack on the Labour Party in her constituency, accusing it of "baiting Jews with hateful language".
She has called on Jeremy Corbyn to place the Hastings and Rye Constituency Labour Party (CLP) under special behavioural measures.
Ms Rudd expressed concern that Labour activists passed a motion calling for Derby North MP Chris Williamson to be reinstated to the party.
Mr Williamson was suspended on Wednesday following claims the party has been "too apologetic" about anti-Semitism.
Ms Rudd also claimed the CLP motion dismissed some claims of anti-Semtism as "crying wolf".
The Cabinet minister said: "Jewish people in Hastings and Rye deserve far better than a local Labour Party obsessed with peddling conspiracy theories about Jewish people.
"For too long, the Labour Party in Hastings and Rye has deliberately goaded and baited Jews with hateful language and got away with it.
"This latest salvo is a disgrace and shows that the local party is infected with anti-Semitism.
"And now Jeremy Corbyn ... must immediately place the CLP under special behavioural measures and personally oversee efforts to treat this infection."
A Labour Party spokesman said: "Downplaying the problem of anti-Semitism is offensive and makes it harder for us to tackle it.
"Motions about individual disciplinary cases are not competent business for CLPs, which are not involved in individual disciplinary cases and cannot influence them.
"We completely reject claims of institutional anti-Semitism."
Hastings and Rye CLP chairman Ken Maitland said: "I reject entirely Amber Rudd's claims about our local party.
"We are a vibrant, welcoming and diverse local party which is absolutely committed to fighting racism and anti-Semitism.
"Anti-Semites are a tiny minority within our party of over half a million people but one anti-Semite is too many.
"Polling has shown that anti-Semitic attitudes are higher among Conservative voters than Labour voters so clearly all parties must work together to tackle this prejudice across the political spectrum."
Meanwhile, a Labour source expressed concern that a media release about the matter was issued from Ms Rudd's special adviser's Department for Work and Pensions (DWP) account.
The source said: "The press release sent by Amber Rudd's special adviser from their DWP account is a clear breach of the special adviser code of conduct and should be investigated by the Cabinet Office."
Mr Williamson has vowed to clear his name, saying he has a "very strong case".